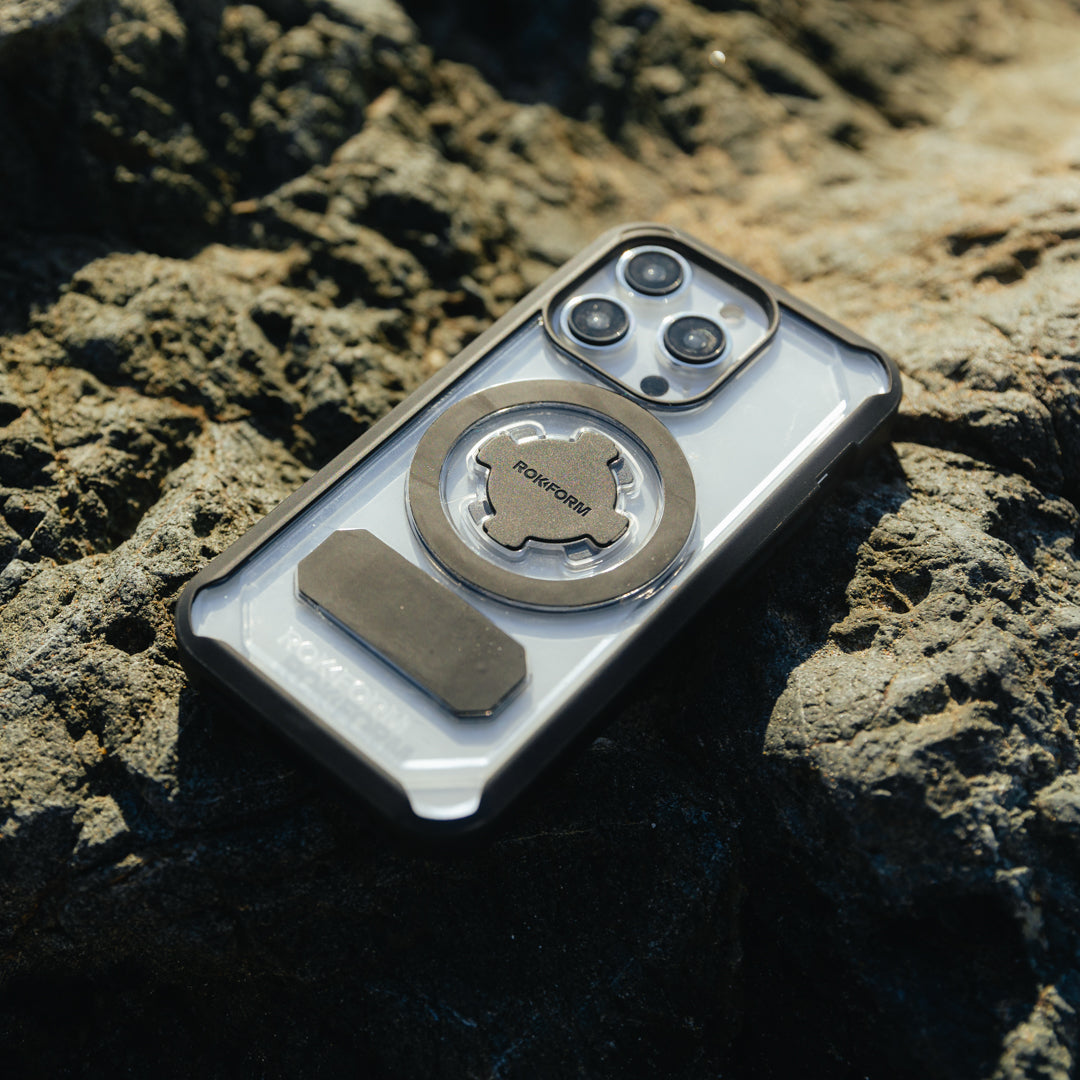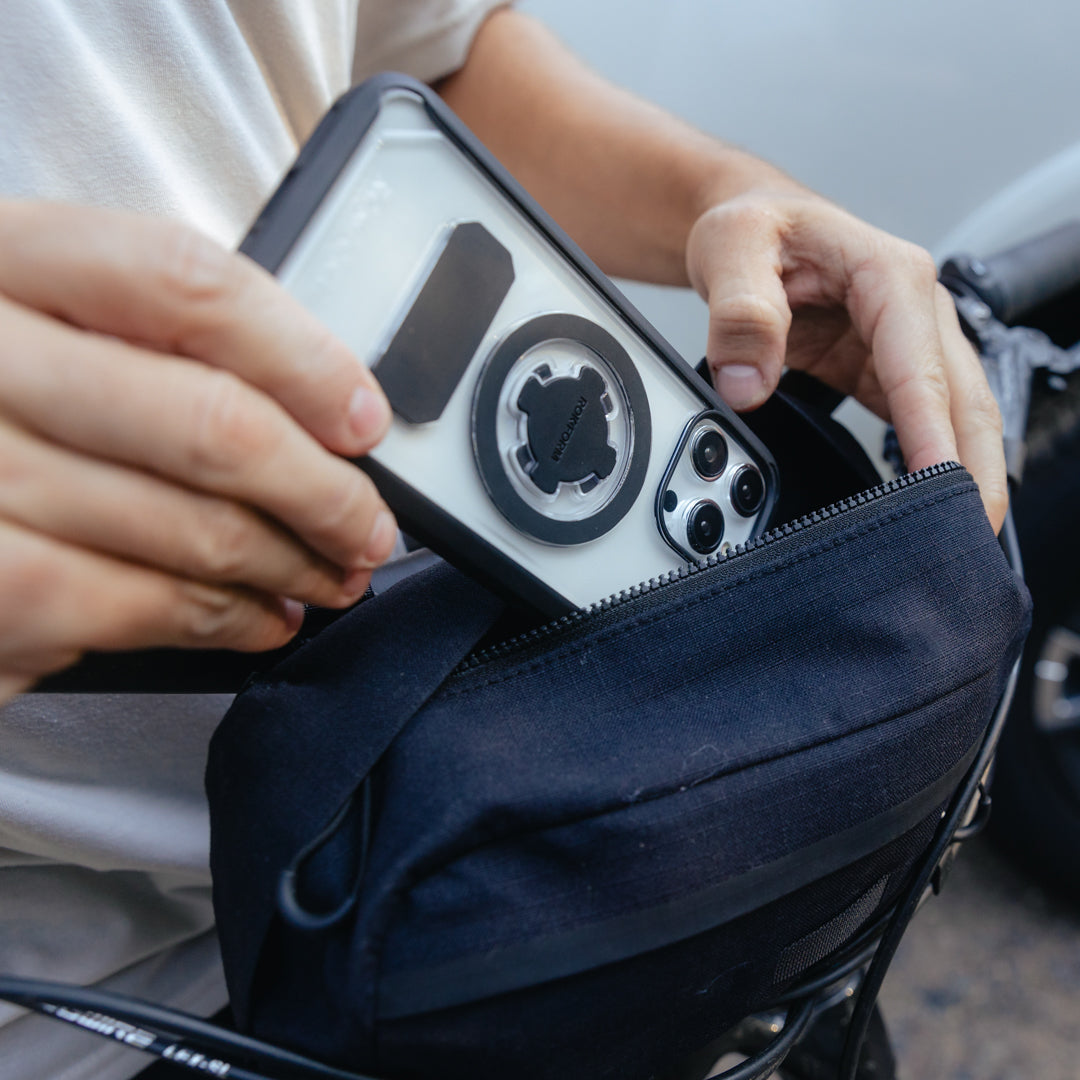 iPhone 15 Pro Max Crystal Case
The customer favorite iPhone 15 Pro Max clear case - crystal clear with military-grade protection.

• Refined and updated 2024
• Rugged military-grade drop protection
• Patented Twist Lock and magnetic mounting
The Hard-Crystal name may suggest fragility, but don't be fooled. ROKFORM's new iPhone 15 Pro Max clear case provides military-grade protection in a crystal-clear form that lets you showcase your phone's color. If you're searching for a slim, lightweight, and protective clear case, you've come to the right place. The new Hard-Crystal case also features enhanced camera protection, raised buttons that are even easier to press, and the strongest magnets available.


MAGNETIC CASE: 3-4x stronger hold on all MagSafe® compatible accessories and any magnetic surface with built-in MAGMAX™ industrial-grade magnets.
MILITARY-GRADE PROTECTION: Reinforced corners and enhanced screen and camera protection to absorb shocks and drops up to 4x better than other cases. Exceeds Military Grade Drop Test standards, MIL-STD 801G-516.6.

TWIST LOCK: The Built-in RokLock® Twist lock system enables you to use all our twist lock bike, motorcycle, and car mounts.
SLIM & LIGHTWEIGHT: Fits your phone perfectly while providing 6-sided 360-degree protection.
2-YEAR ROKFORM WARRANTY: 2-year limited warranty and 5-star

customer service based in Irvine, California.

WIRELESS CHARGING COMPATIBLE*:

 

Designed to work with ROKFORM magnetic charging products (*Compatibility with MagSafe® wireless charging products outside of ROKFORM may vary).

The iPhone 15 Pro Max clear case is compatible with all of ROKFORM's magnetic and RokLock® twist lock mounts, perfect for cars, trucks, bikes, motorcycles, golf carts, and more. You can instantly stick it to any magnetic surface or securely twist and lock it to any of our twist lock mounts, just like our Rugged case. Join thousands of satisfied customers who swear by the peace of mind and convenience our cases provide, year after year.
- All New iPhone 15 Pro Max Crystal Case
- Non-Magnetic RokLock™ Plug

Although iPhone 15 models are a bit more crack-resistant than older iPhones

, they are still susceptible to damage if they fall on a hard surface or sustain an impact.

Your new phone needs protection like our

clear case for the iPhone 15 Pro Max,

Pro, or Plus!
ROKFORM phone cases like our Crystal

iPhone 15 clear case

is military-grade tested and provides maximum protection while looking slim and stylish. Our clear case protects your phone

4x better than other cases and exceeds Military Grade Drop Test standards, MIL-STD 801G-516.6.

Despite their light weight and low profile, our iPhone 15 clear cases keep your phones safe through drops and falls.
Yes! Our

iPhone 15 clear case

works with all of ROKFORM's magnetic mounts and RokLock™ twist lock mounts. You can mount your new iPhone 15 securely in cars, trucks, bikes, motorcycles, golf carts, and more. Our powerful magnets and 4-point twist-and-lock RokLock™ security will keep your new phone safely mounted when things get bumpy.
The Crystal case has a built-in MAGMAX™ magnet array and will work with all Rokform wireless chargers. Compatibility may vary with MagSafe®
wireless charging products not affiliated with Rokform.

 

Although we cannot guarantee that the case will work on ALL Qi chargers and in ALL vehicles due to the nearly infinite combinations, (vehicle type, charging area, power output, etc.) we can guarantee it will work with all Rokform Wireless chargers. You can learn more about wireless charging

 

here. 
The only difference is the look and design. Both provide the same level of protection at the screen, corners, and camera. The RUGGED case is all black with CF texture and has more of a tactical look and feel. The Crystal has a more refined, smooth look with Clear Polycarbonate back so you can showcase the color of your phone. When it comes to choosing between the RUGGED and the CRYSTAL case, it is just a matter of personal preference. Both provide the same level of protection, function, and utility.
We have the iPhone Rugged case available in all black and the Crystal case in Clear, which allows the iPhone's color to show through.
Our case will not make your phone waterproof, but most iPhones are already water resistant!
No. ROKFORM Pioneered magnetic technology in the Mobile Electronics Accessory Space back in 2011, and now even Apple® has adopted magnetic technology in their phones and accessories, even cases. Our specially designed rare earth magnets are proven safe for all smartphones and tablets. The center magnet will block wireless charging, so please remove the center magnet if you want to wireless charge using a MagSafe® compatible charger or standard Qi Wireless charger. Keep loose magnets away from children under 16 years of age. Magnets are safe for your phone and your credit cards, but direct contact can damage other magnetically sensitive products or devices such as floppy discs, hotel keys, and spinning hard drives. Do not use if you have an implanted device.
Very easy. Our iPhone Rugged and Crystal cases are designed for everyday protective use and convenience. Removal and installation are simple and only take seconds. Check out the video series in the tab above to see how it all works.
One word. CONVENIENCE! The magnet is powerful enough to be used for a variety of everyday tasks. Some of our favorites are sticking it to a fridge, toolbox, corner bead of a wall for family photos, side of your car when loading groceries, golf cart, GPS, magnetic car mount holder, and much more. Many of our customers are in the industrial and law enforcement fields and use them on a forklift, industrial racks, police car, fire truck, navy ships, and more. We are sure that you will find magnetic mounting amazingly useful for everyday and heavy-duty applications. We are so confident you will love it; we offer a 60-day money-back guarantee!
No. The magnet does not affect the phone signal, GPS, Bluetooth, or Wi-Fi.
The case's interior is constructed from polycarbonate and TPU rubber that is semi-soft and won't scratch or harm your phone. The corners are made from the same soft material and offer excellent shock and drop protection.
All ROKFORM accessories like holsters, belt clips, straps, and lanyards remain compatible with our iPhone 15 and iPhone 15 Pro Max clear case lines. Our iPhone 15 crystal case series is also RokLock® compatible and will attach to any of our RokLock® system mounts, so you can continue using your old gear with your new case.

We have a variety of accessories for most active and industrial uses, which include: bike mounts (mountain biking and road cycling), motorcycle mounts for cruisers, Harley Davidsons, sport bikes, and scooters. Tripod adapters for photos and video, universal car mounts, golf swing video analyzer, belt clips, stroller mounts, wall mounts, running armbands, bundle kits, and more. The best part is that the mounting system is universal across our entire product line, so if you upgrade your phone, all of the accessories remain compatible.

The case is slim enough for everyday use at just 14.2mm and protective enough for serious abuse. You will get 1.75mm of screen protection at the corners and 1.5mm at the screen, and 2.5mm around the camera. The last thing you want is a broken screen or camera, so we went the extra mile to provide the maximum amount of protection with the least amount of bulk.
Polycarbonate is a very tough form of plastic that has very high impact resistance. In addition to phone cases and other consumer electronics, polycarbonate is used in helmets, masks, police riot gear, and other applications where strength, durability, and lightweight are priorities.
TPU (Thermoplastic polyurethane) is a form of plastic that can be hard or soft and is known for its elasticity and resistance to oil grease and abrasion. In addition to its being a great material to protect your phone, it is also used for caster wheels, power tools, sporting goods, etc. We use 85D TPU on our phone case to provide optimum drop protection, grip for your hands, and optimum magnet performance.
YES! Our TPU has just enough grip for optimal feel but not too much where it attracts lint or gets stuck in your pocket.
Our patented RokLock® twist lock is for secure twist lock mounting on a variety of mounts sold separately for

cars,

motorcycles,

bicycles, boats, and more.
Every iPhone Rugged and Crystal case has an integrated lanyard slot for use with just about any lanyard. The lanyard is not included, but it is sold separately on our website

here.
No worries. We offer a 60-day money-back guarantee. If you don't like it, send it back for a full refund or exchange — your choice.
The RUGGED case has a special carbon fiber texture that is molded into the case and is scratch resistant. Even after hard use, your case will still look great! The Crystal case is high polished polycarbonate, which will scratch, but we have set the polycarbonate slightly below the TPU to help prevent direct contact on the scratchable surface.
YES! No matter the occupation, police, fire, construction, doctor, lawyer, and everyone in between, the ease of use, utility, and convenience of the ROKFORM Rugged or Crystal case can make any job just a little bit easier.
The case is designed, tested, and shipped to you from Irvine, California, and manufactured in China.
The average customer will have their case as long as they have their phone. Customers rarely take advantage of the two-year warranty because the cases are so tough. In the unlikely event that something does happen to the case, give us a call, and we will take care of it.
Maybe. Some magnetic mounts use four small magnets facing North and South and are generally used to stick to a metal plate. Our magnets face South on the case and North on our Mounts, so if you are using a non-ROKFORM mount, the performance may not be very good because the magnets in the non-ROKFORM mount are resisting against the magnet in the ROKFORM case. We recommend ROKFORM magnetic mounts for our cases because they are designed to work together.
The magnets in the case are very strong and designed to hold your phone securely to our optional mounts or any magnetic surface. We use only N52 Neodymium magnets, which are the highest grade available. The lower magnet on the Mini" magnet is rated at 8.3lbs. of pull. The lower magnet on the 6.1 and 6.7" iPhone has 9.88lbs. The center magnet is the same in all cases and has 6.3lbs of pull. The bottom line, your phone is not going anywhere once stuck to a magnetic surface, especially with both magnets engaged.
In the 5.4" case, the magnet is 25mm x 3.25mm, and in 6.1" and 6.7", the magnet is 28mm x 3.25mm. The center magnet is 20mm x 3.3mm.
N52 Neodymium. The highest grade available.
iPhone 15 Dimensions:

 

Rugged

 

– 152.9mm x 77.4mm x 14.1mm,

 

Crystal

 

– 152.9mm x 77.4mm x 14.1mm
iPhone 15 Plus Dimensions: Rugged

 

- 165.9mm x 83.5mm x 14.1mm, Crystal

 

- 166.7mm x 83.6mm x 14.1mm
iPhone 15 Pro Dimensions: Rugged

 

- 152.2mm x 76.1mm x 14.5mm, Crystal

 

- 152.4mm x 76.4mm x 14.5mm
iPhone 15 Pro Max Dimensions: Rugged

 

- 165mm x 82.2mm x 14.5mm, Crystal

 

- 165.7 mm x 82.5mm x 14.5mm
No, the ergonomic shape and blend of Polycarbonate, and soft TPU provide a firm grip and feel in your hand.
Yes, our oversize ports provide full sound from the iPhone speakers. If you want even more sound to work with our cases on and off the golf course, try our

G-ROK golf speaker.
The buttons are very easy to push, thanks to specially designed cutouts for both the volume and the sleep buttons. They are feathery light.
No, the Rugged case does not show any fingerprints. The Crystal case can show some fingerprints, but the polycarbonate is set slightly below the TPU, so fingerprints are minimal.
Yes. The protective lip around the screen does not hinder a swipe up, down, or in any direction.
Yes. All ROKFORM iPhone 15 Pro Max protective cases include holes that will fit virtually any standard size

lanyard

for added security.
Extremely good. The specially designed reinforced sides, corners, front, and back protect against drops from up to 6 feet at any angle. Check out our

Survival Stories

from real-life customers of how ROKFORM cases perform under extreme conditions.
No. The case is more protective than most but feels slim in your hand and will easily go inside and out of pockets, bags, and purses.
The iPhone Rugged and Crystal cases are more on the rigid side to protect from shocks and drops but do not feel stiff or cumbersome. They have a slim feel and are easy to get in and out of your pocket.
No. We provide extra protection around the cameras to protect during everyday use, accidental drops, and daily use and abuse.
It lays flat to allow for easy typing, swiping, and daily use without the wobble.
Yes, we have a 1.75mm lip all around the case with reinforced corners, which is up to 4x more than competitor cases, so you can be sure your phone is protected at all times.
There are extra wide openings for the perfect operation of the flash and camera.
The case covers the volume and sleep button with specially designed cutouts that make the buttons very easy to push and access.
Yes. Your iPhone will be fully protected from daily use and abuse. A

tempered glass screen protector

will also add extra protection for the screen and is recommended but is not required.
2.5mm of protection at the camera.
All of our TPU is a fine texture matte black for just the right amount of grip and subtle look.
We have a two-year warranty and a 60-day money-back satisfaction guarantee. Our 5-Star Customer Service Team, based at our headquarters in Orange County, California, is always ready to help. If it's a warranty replacement, spare part, question, or anything in between, our goal is to make every customer a customer for life. If you are the original purchaser of our product and have a problem, call us, and we will fix it. Give us a try and see or run on over and visit us in our showroom!
Instantly Sticks to Surfaces
Our clear iPhone 15 Pro Max case holds fast thanks to powerful N52 Neodymium magnets. These powerful magnets grip firmly to MagSafe® accessories and magnetic surfaces. We use the highest grade of magnets available to make sure your phone stays mounted even in the roughest of conditions. You can make hands-free phone calls with no worries of dropping your iPhone.
Military-Grade Protection
With our Crystal clear case, iPhone 15 Pro Max users get 360-degree military-grade drop protection. With reinforced corners and enhanced screen and camera protection, our cases provide up to 4x more protection than other cases and exceed Military Grade Drop Test standards, MIL-STD 801G-516.6. It's built tough to protect your iPhone 15 against scratches and drops.
Made With High-Quality Design and Materials
Our Crystal iPhone 15 Pro Max clear case shields your phone from drops and damage with clear high-impact polycarbonate armor. Police and soldiers use polycarbonate body armor and shields, and many police, military and first responders rely on our phone cases. Whether you're on patrol, in the woods, at the golf course, or at the office, we keep your phone safe.
Slim & Sleek
Our entire iPhone 15 Pro Max case clear line is slim and lightweight. Bulky phone cases make your phone heavier and harder to use. Our Crystal case fits easily into your pocket, but it also provides military-grade drop protection. We use a polycarbonate shell and shock-absorbing soft inner layer to shield your phone's corners, screen, and cameras from harm.
Perfect for Outdoor Activities
On and off the course, thousands of players trust ROKFORM cases. Our clear iPhone 15 Pro Max case line uses powerful magnets that will stick your iPhone directly to your golf cart through all 18 holes. You can use calls, texts, music, GPS apps, and video across the course. Motorcyclists and offroaders can use our Crystal case with one of our RokLock™ mounts for an even stronger hold.
Great case
I've used your cases for the past 3 years and I can say without a doubt, I am a lifetime customer. With that said, The crystal clear case for the 15 pro max is a great case and for the price point to protect my investment is phenomenal. The only thing stopping me from calling it the "perfect" case is the fact that there's still an opening on the side for where the action button is. I feel like it should have been covers like the volume buttons. If you ever go back to the drawing board and decide to make it where there's a button on the case for the action button, I would love to have one. Other than that, it's a great case, good job to you all.
New phone same case
I've had a Rockford case on every phone going back to my iPhone 4. This latest case appears to be every bit the high quality that I've come to expect from this company.
Rokform Hands Down Best!
Rokform products are hands down the best iPhone accessories in the market for their patented magnet system, my iPhone case for my iPhone 15 Pro Max arrived 2 days later after ordering across the country. Not to mention 20% my first order and free shipping! Also they have their products on Amazon which is great too. Rokform keep up the amazing work 💪
Fantastic Case!!!
Arrived the day prior to my new iPhone 15 Pro Max - Thank You!!!! Case is very protective, and the versatility is exceptional. Great to lock it into the windshield mount for driving and to use the magnet feature to put the phone anywhere in the gym!
Continuous Innovation
I've had Rokform products for years now. They have been my go-to case for phones and go-to gear for motorcycle products. Upon receiving my 15 Pro Max, the case snaps in like a glove and the MagSafe ring is just as magnetic as the previous models. I compared the cases between this one and the 12 pro max and you can tell Rokform is continuously innovating their products. The build quality is stellar. Shoutout to the customer service team who always had swift responses to my questions/replacement queries!!!! I recommend to all my people: Rokform is the way.