Quality Car Phone Mounts
THE ROKFORM DIFFERENCE
MAGSAFE®
Rokform's MagSafe® mounts are built to secure compatible phones. A cell phone holder for cars should never risk wireless charging tech!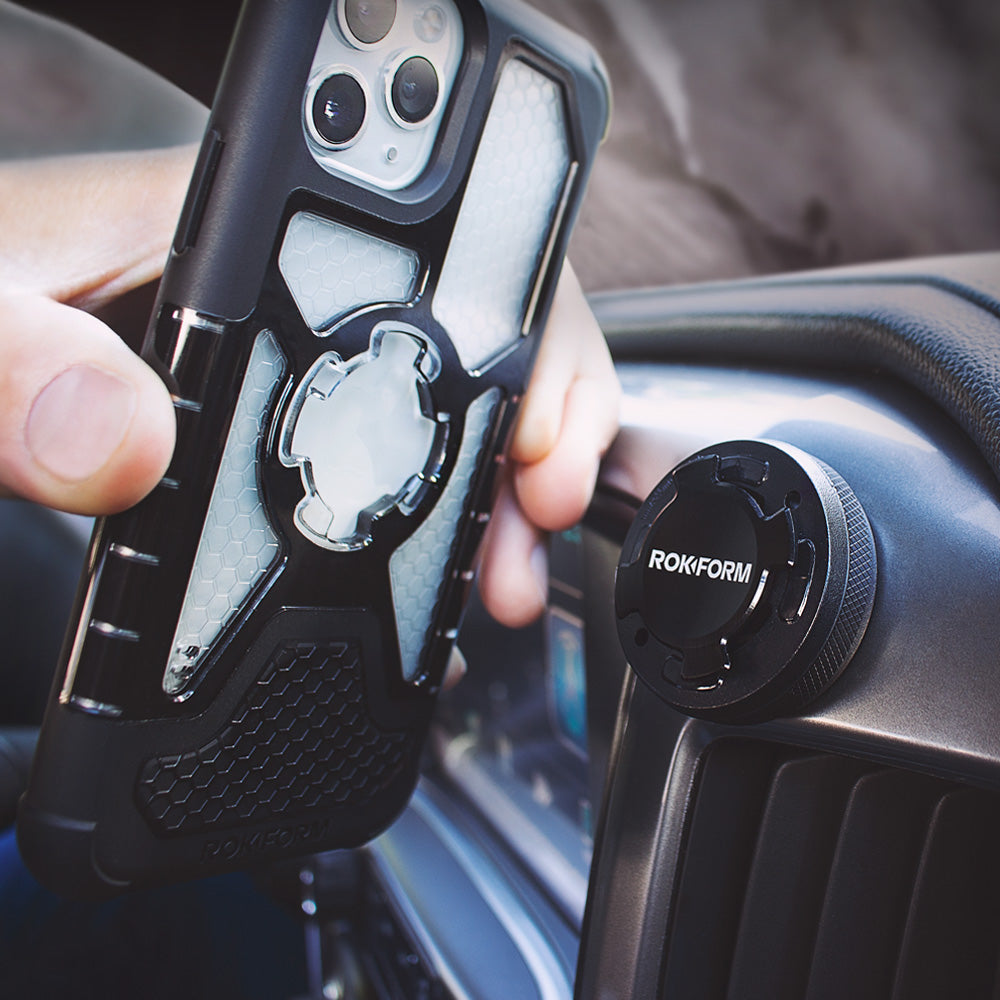 ROKLOCK™
Our RokLock™ phone car mount is a 4-point twist and lock mounting system that firmly holds your device in place with a simple twist.
MAGNETIC
Strong is an understatement. Our magnetic cell phone holder for cars are tested for strength and never impact GPS, Wi-Fi, BT, or data transfers.

Why Rokform
Car phone holder for military tough cases
QUALITY DRIVEN - SATISFACTION GUARANTEED
CHOOSE YOUR PHONE CAR MOUNT
A variety of car mounts to suit different needs & preferences. Here's a list of our car phone holders - Dash, Vent, Suction, or Swivel? Take your pick.
VENT CAR PHONE HOLDER
MOST POPULAR CAR PHONE MOUNT
This cell phone holder for cars provides a bigger grip area with super grip design. Avoid constantly readjusting your phone with stable, non-slip mounting. Included steel phone case inserts means you can pair this phone mount with any case.
VENT CAR PHONE HOLDER
MAGNETIC MAGSAFE® CAR MOUNT
A magnetic phone mount for cars with an anti-slip, MagSafe®-compatible magnetic face mount. Reliable super grip and machined aluminum bezel. Built to keep your phone firmly in place - smooth ride, or not.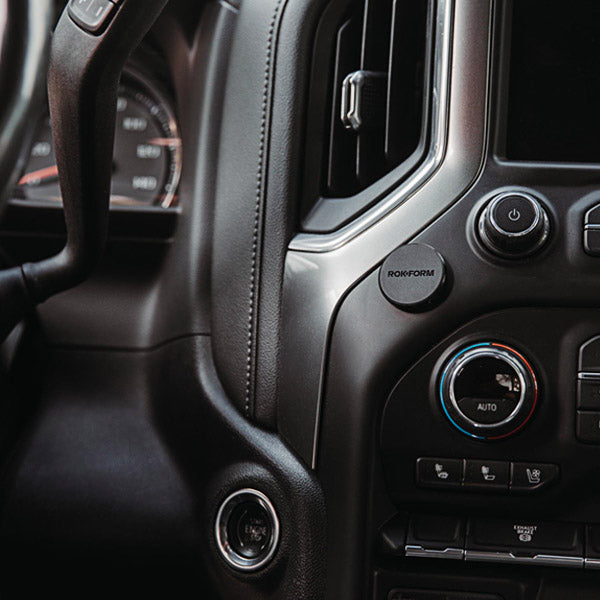 DASH CAR PHONE HOLDER
LOW PRO MAGNETIC CAR MOUNT
Attach our Low Pro phone car mount to any flat surface in cars, shops, cubicles or anywhere else! A discreet design matched with strength that holds even the biggest and heaviest phones securely in place.
DASH CAR PHONE HOLDER
ROKLOCK™ PHONE CAR MOUNT
The RokLock™ car cell phone holder is designed in California and affixes to most flat surfaces. It's lightweight but strong and lets you view your phone in portrait or landscape.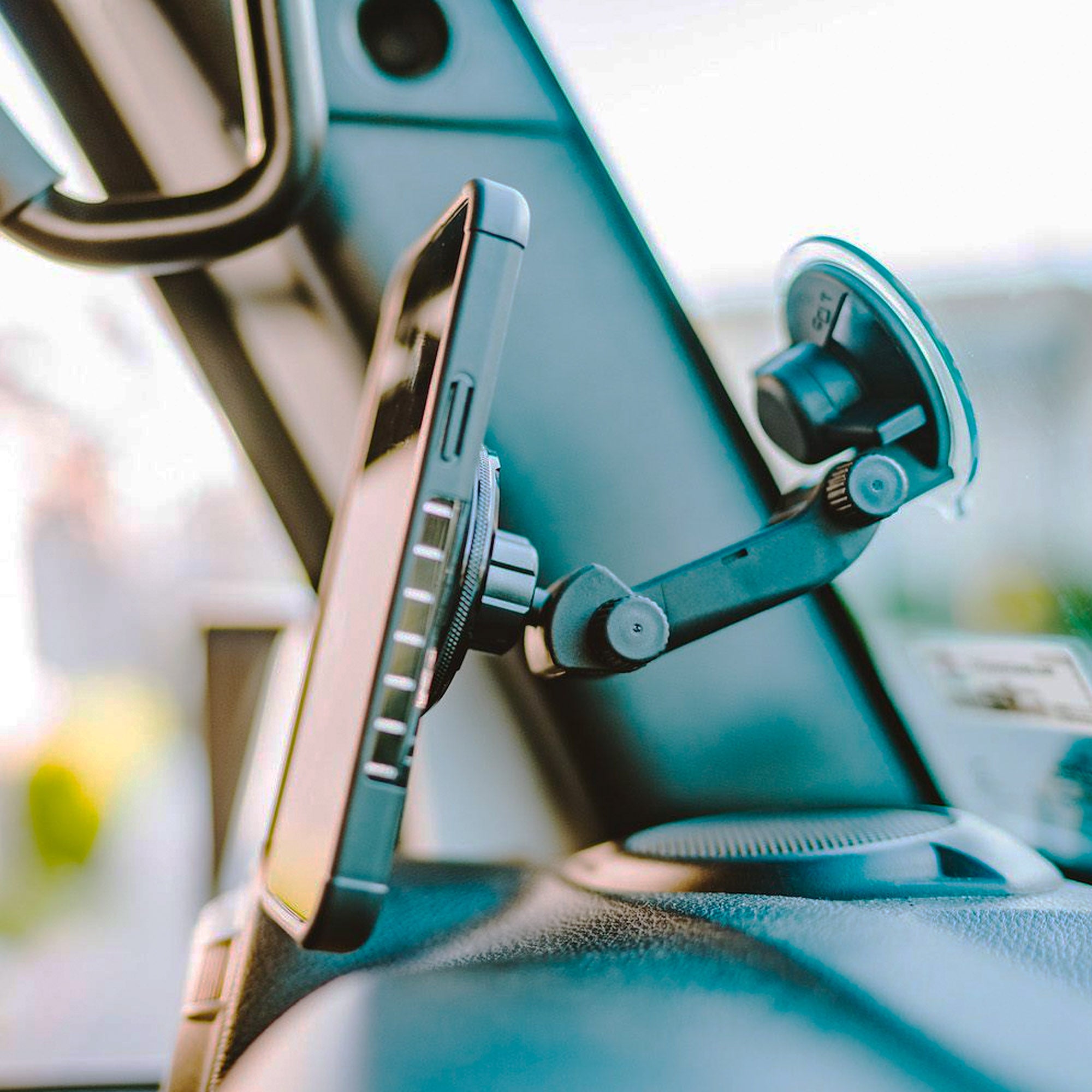 SUCTION CAR PHONE HOLDER
Magnetic MAGSAFE® Mount
Our MagSafe® mount car phone stand comes with a heavy-duty suction mount. Its durable reinforced polycarbonate construction won't vibrate while on the road and it works with all MAGMAX cases and MagSafe® compatible phones
SUCTION CAR PHONE HOLDER
ROKLOCK™ CAR PHONE MOUNT
Our RokLock™ Mounting Interface makes our phone car mount secure and durable. It offers 210º of tilt and 360º of rotation to give you easy and secure hands free GPS access while driving.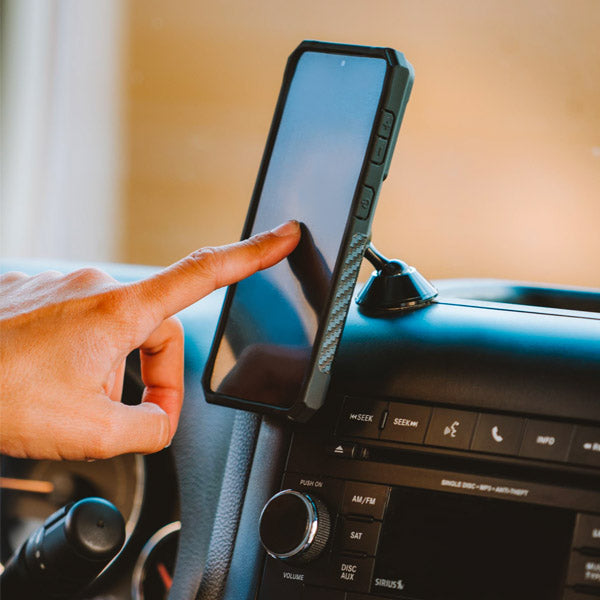 SWIVEL CAR PHONE MOUNT
MOST POPULAR CAR MOUNT
The low profile design of our swivel mount makes it our most popular phone stand for cars. It installs with easy-to-use residue-free adhesive, and has a super grip face that magnetically secures your phone.
SWIVEL CAR PHONE MOUNT
DUAL MAGNET SWIVEL CAR MOUNT
This cellphone car holder with swivel mount rotates 360 degrees to the perfect viewing angle. Strong 3M VHB adhesive keeps your phone secured, and the fully adjustable head can be used with MagSafe® compatible devices and MAGMAX cases.
If your car doesn't have a GPS system or you don't want to use its navigation, a phone car mount that offers hands free operation is a safe alternative. A car phone holder lets you operate your phone via voice commands while driving and keeps it in place to avoid damage or distractions caused by unexpected falls in bumpy conditions.
Magnetic phone mounts are a safe and convenient way to keep your device in place while driving. They affix to the magnet on your MagSafe® phone or MAGMAX case tightly enough to hold your phone firmly in place. But our magnets won't cause permanent damage or data loss. We build and design our magnetic car cell holder to stick without any risk of damage with your phone's circuitry.
Rokform makes the best phone holders because of our reliability and safety. A car phone holder needs to be durable and secure with the ability to attach to any car surface. Rokform phone car mounts are strong, secure, and safe to use. The magnets used in our MagSafe technology will keep your phone firmly in place without damage or data loss.
So long as your phone car mount doesn't block your view of the road and traffic ahead, it isn't illegal to have a phone on your dashboard. Rokform has car mounts that can be placed in any position and are suited for different driving habits. We advise you to use hands free commands and keep your eyes on the road at all times.
Here are five places to put a phone car mount for your smartphone:
Driver side window mounts are easy to check while driving.
Rear view mirror/ center dash mounts can be seen by everyone in the car.
Vent mounts are good for people who only occasionally mount their phones.
Console mounts are good if you often drive on very warm days
Cup Holder mounts are good for large vehicles
Rokform makes the best phone mount for car usage. Our RokLock™ and MagSafe® technologies help keep your phone securely in place during start and stop traffic or when you drive over potholes. Our high-quality durable mounts are designed and constructed in California by skilled workers. We know how much you rely on your phone and we want to make sure you can rely on us.
You can buy a Rokform car phone mount that attaches with adhesive or by suction. We offer swivel mounts, dash mounts, and a magnetic cell phone holder for cars. Rokform has strong, lightweight, reliable holders that you can trust and that are backed by our 2-year warranty.
And when combined with our MAGMAX phone cases, our magnetic technology provides even greater holding power.
MORE REASONS TO CHOOSE A ROKFORM PHONE CAR MOUNT