Designed to work exclusively with MagSafe® phone cases. 

ALL-NEW Triple Magnetic Sport Phone Ring with MAGMAX™ was built to make your life easier. Featuring front and back magnets plus a strong center magnet, you can stick your phone to any magnetic surface for hands-free use – anytime, anywhere.
You can also can enjoy the convenience of magnetic mounting with MagSafe® compatible mounts, ROKFORM magnetic car mounts and any magnetic surface, plus it works with any MagSafe® compatible case.
The Triple Magnetic MAGMAX™ Sport Phone Ring has a low-profile, adjustable stand that works in both portrait and landscape mode – so say goodbye to awkward hand poses when you watch videos.
ANY ANGLE: Adjustable stand for portrait and landscape views.
EASY ON, EASY OFF: Easily attaches and detaches for ease of use.
MAGSAFE® COMPATIBLE: Use with any MagSafe® Compatible phone case.
BUILT LIKE A ROK: Premium aluminum and stainless steel construction.
2-YEAR ROKFORM GUARANTEE: 2-year limited warranty and a 5-star customer service team based in Irvine.
- All New MagSafe® Sport Ring with Stand
No. ROKFORM Pioneered magnetic technology in the Mobile Electronics Accessory Space back in 2011 and now even Apple® has adopted magnetic technology in their phones and accessories, even cases. Our magnetic accessories including the Sport Ring are all safe for your phone.
No. In all of our experience and hundreds of thousands of magnetic accessories sold we have never had nor heard of a magnet harming a credit card. Moreover, most credit cards and processors use the chip exclusively so the strip on most cards is rarely used. Magnets can however de-magnetize hotel keys and we have had reports of magnets harming certain gift cards. Keep your phone in a different pocket than those items when using the Sport Ring.
To give you access to better quality standards, we take the direct-to-consumer approach and with few exceptions, we cut out the middleman. This allows us to provide a more premium product at an affordable price. The Sport Ring is made from Titanium, Stainless Steel, Aluminum, and Reinforced polymer compared to similar "Big Box" retail competitors that offer similar products made from plastic and or pot metal. Our products are premium, prices are affordable, and our quality is guaranteed.
No worries. We offer a 60-day money-back guarantee. If you don't like it, send it back for a full refund or exchange — your choice.
We offer a 60-day money-back guarantee and a 2-Year limited warranty. We also provide live World Class customer service right here in Irvine, California. Have more questions? call one of our friendly customer service professionals toll-free at 855-765-3676.
No but the Sport Ring can be easily removed in seconds for wireless charging on compatible phones or cases like the Apple® iPhone® and Samsung® Galaxy® wireless series cases we offer.
The magnet is 32mm in diameter and 3.25mm thick.
1.6oz. (47 grams) most of the weight is due to the magnet.
5mm thick (.2 inches) (plus 1mm for grip) 46.5mm tall and 46.5mm wide (1.8 inches)
Yes you can use the Sport ring on any ROKFORM magnetic mount including the Super Grip Vent Mount, Swivel Mount and Low Pro Dash Mount.
Yes, the stand will hold your phone at the perfect angle in portrait and landscape.
The ID of the ring is 39mm (about 1.5 inches) The larger ring allows for a more useable Ring / stand & grip. Most rings are too small for larger fingers and do not allow for a realistic viewing angle especially for larger phones and portrait mode. The larger ring also allows for a larger magnet for more secure mounting on magnetic surfaces and magnetic car mounts.
No, the MagSafe® Sport Ring will work only work on ROKFORM cases that have a MagSafe® ring. 
Yes, but only if using our Universal Adapter that adheres to just about any phone or case. Once you install the universal adapter to your case, you can quickly and easily twist and lock the Sport Ring directly to it.
No. The magnet does not affect the phone signal, GPS, Bluetooth, or Wi-Fi.
The Sport Ring is designed, tested, and shipped to you from Irvine, California, and manufactured in China. We carefully select our manufacturing partners to ensure the best quality for our customers.
Maybe. Some magnetic mounts used four small magnets facing North and South and are generally used to stick to a metal plate. The Sport Ring Magnet faces South on the Sport Ring and North on our Mounts, so if you are using a non-ROKFORM mount, the performance will not be very good because the magnets in the non-ROKFORM mount are resisting against the magnet in the ROKFORM mount. We recommend
ROKFORM magnetic mounts
for the Sport Ring because they are designed to work together.
Yes. The Sport Ring is less than 6mm thin and the ring folds firmly flat so it won't snag on your pocket and will easily slide in and out. Most customers leave the Sport Ring on their phone at all times except when wireless charging or using one of our bike mounts, motorcycle mounts or some of our other twist lock accessories. In this case, it's easy to remove the Sport Ring, stow it away and go out on that much needed, head clearing ride!
Yes, in fact it has a powerful N52 Neodymium magnet right built into it. The built-in magnet allows you to quickly and securely stick your phone to any magnetic surface.
The magnets in the Sport Ring are the strongest Neodymium Magnets available, Grade N52. The magnet is 32mm OD x 3.25mm thick with 11lbs. of pull force. Rest assured whether you are carrying the largest iPhone 12®, Galaxy® Note 20 or other Android® Phone using our universal adapter, this magnet will hold it steady!
NO! The Sport Ring has our patented ROKLOCK twist-lock system so you don't need to worry about fooling around with adhesive and wondering if it will even stick to your phone or case. The Sport Ring easily twist and locks in place and removes with a simple twist!
N52 Neodymium. The highest grade available.
Currently we do not produce any tablet case, iPad, etc. However, if you use our Universal Adapter on your existing tablet can you will be able to use the Sport Ring which is great for standing up your Tablet for typing or watching videos. With the built-in magnet you can also stick your tablet to any magnetic surface.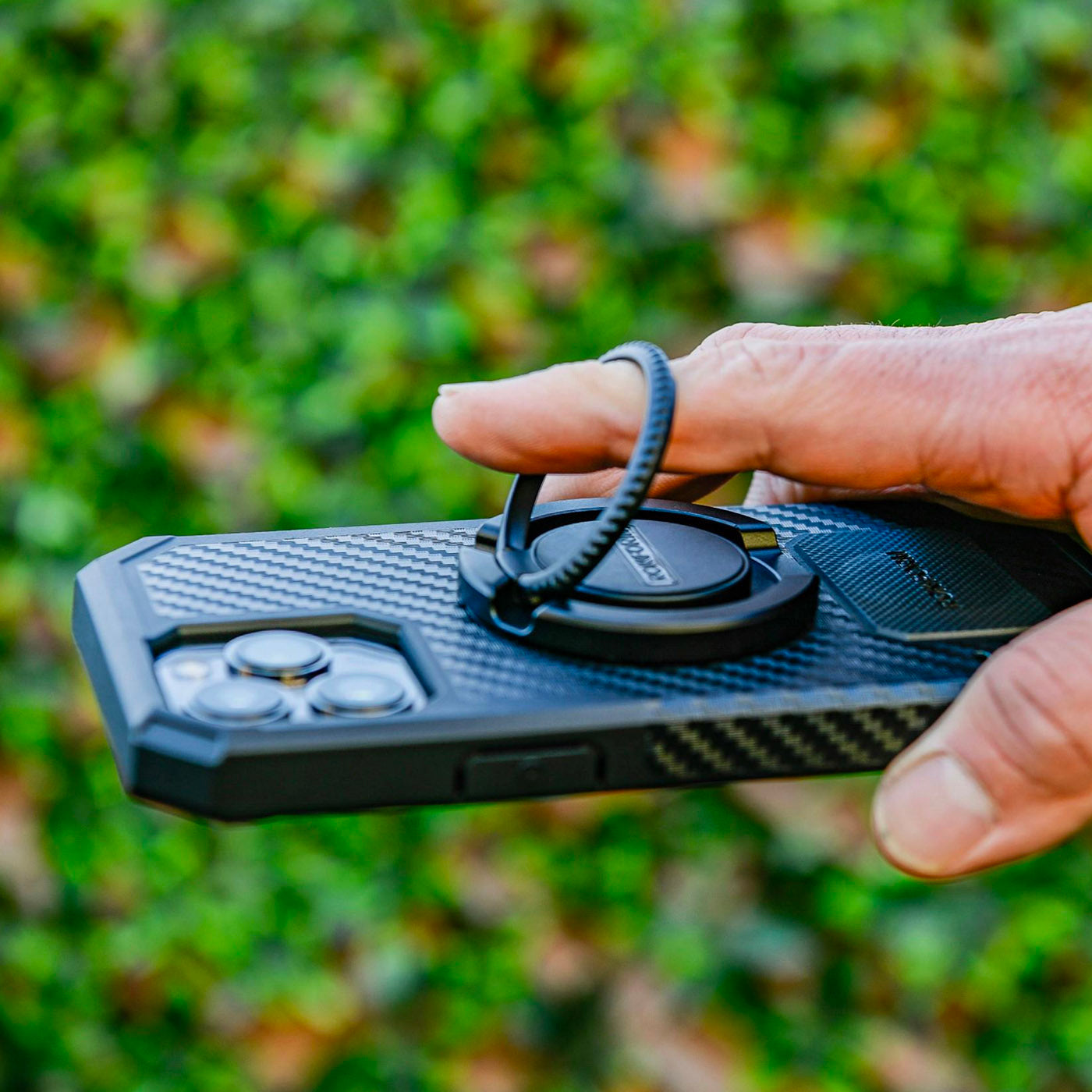 Don't let life slip through your fingers.
Introducing the stainless steel and aluminum MAGMAX Sports Ring: Because life's too short for dropped calls (or phones!)
Watching On Your Phone Shouldn't Be a Balancing Act
Our MagSafe® Sport Ring with Stand allows you to switch between portrait and landscape modes for a seamless viewing experience.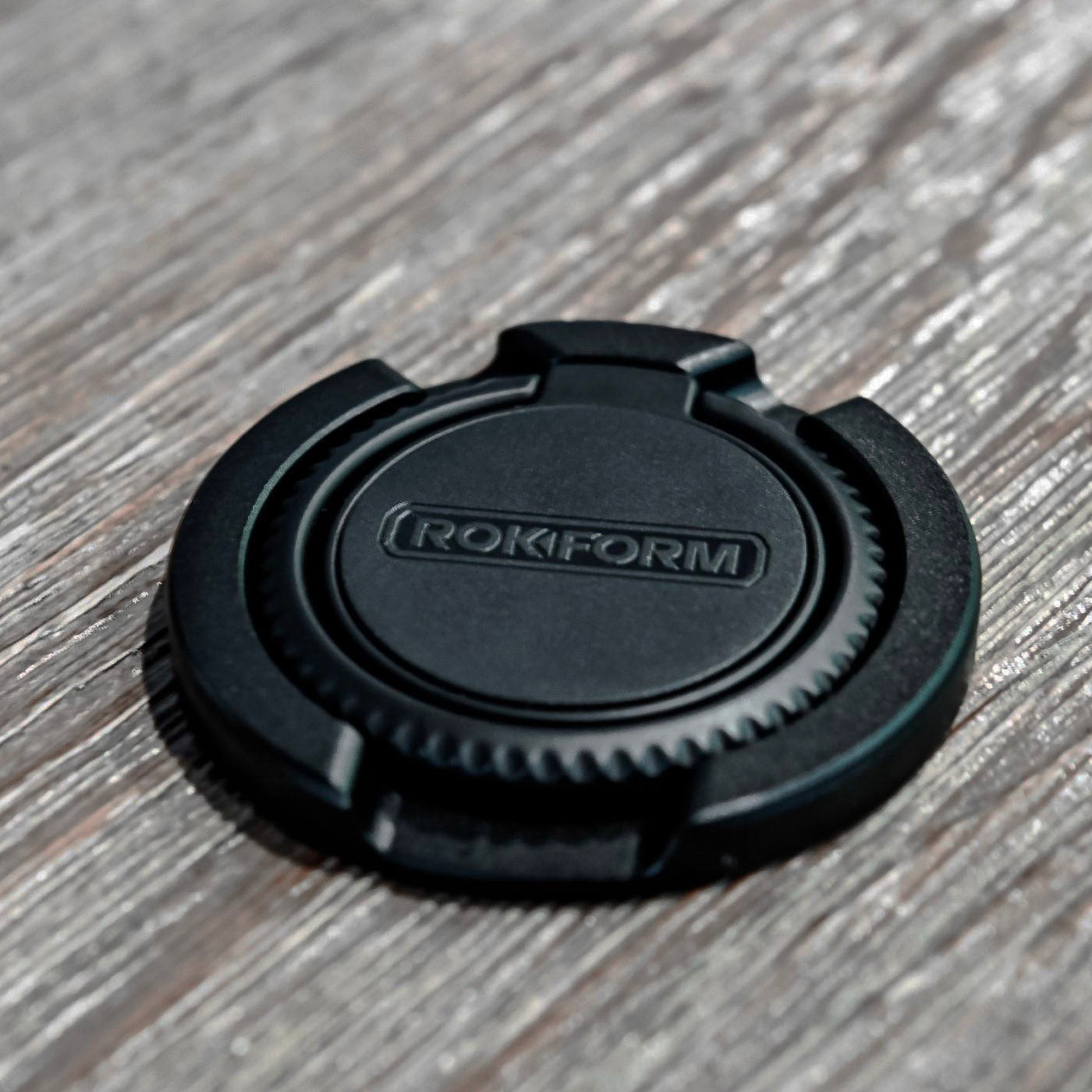 Built Like A Rok
Made from premium materials and next-generation construction processes, our adjustable stand offers both portrait and landscape views.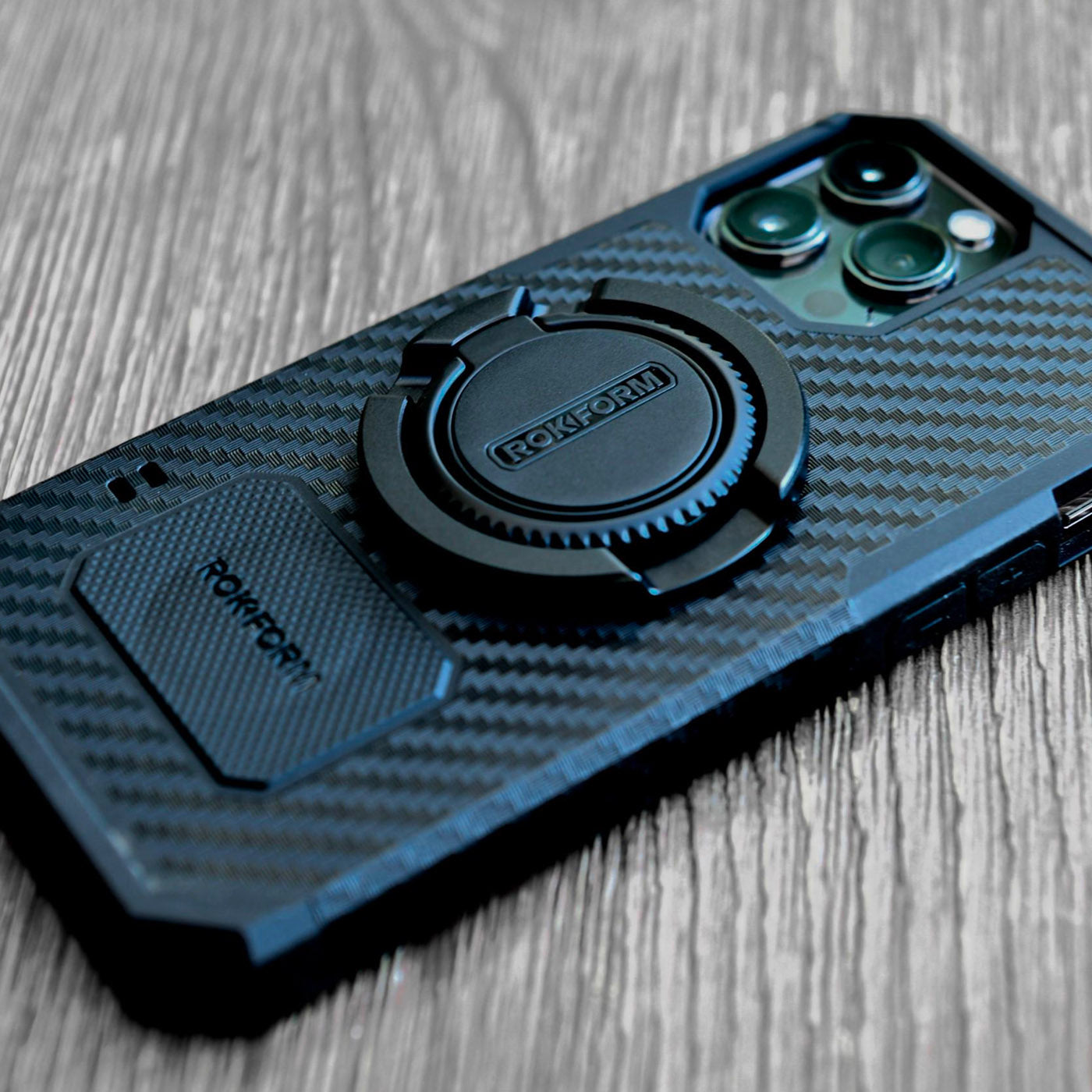 Now Compatible with MagSafe® Cases & Mounts
Featuring both the Dual MAGMAX MagSafe® magnets plus a strong center magnet compatible with all Rokform mounts.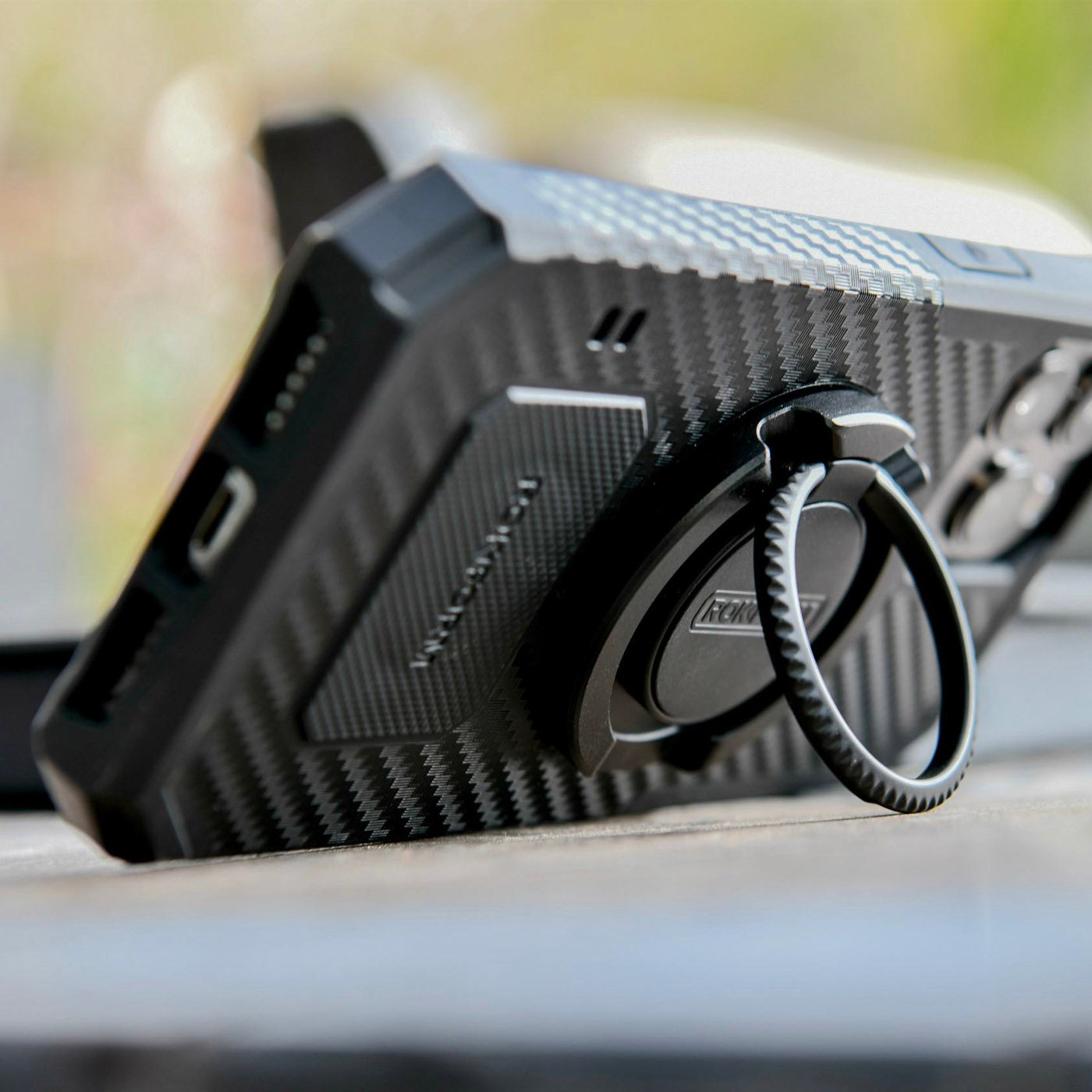 The Perfect Accessory for Multitaskers
Life can be a handful. Our cases and Sport Ring make it easier. You have two-hands for a reason - now you can use them both.
A ring for every occasion
I like the ring because it's convenient to have a multitasking moments that you need when you are in running for customer's at home and for constant viewing. And when you need a photo, and you wanna leave it? On any surface, a h
ook the ring, either or a metal will stick on.
I bought into the rockform system
As a pro photographer, I know why gadgets work and why they fail. You can waste a lot of money on gadgets that fail. Spend it once, buy the right gear… for mounting to car (windshield suction mount, bikes, and metal surfaces - plus the stand is handy in many ways - for video handholding, extra magnetic strength, and positioning your phone on an angle…
MagSafe Sport Ring
Once again delivering me a must have add on to my Rugged IPhone 13 ProMax case. Literally attaches effortlessly to back of case with magnet which adds another super powerful magnet to back of phone case and ring is sturdy and provides a perfect way to position my phone in either landscape or reg mode for business or pleaseure. I watch tons of streaming services on my phone so my only question to myself is why I didn't purchase this addition sooner! Thanks again Rockford for delivering yet another cutting edge product, you guys really are the best in the business
Great for walking
I just got this magnetic ring last week and now I use it on all my walks. The ring rotates to fit any orientation, a feature that was a surprise to me. Construction is sturdy and the magnet is powerful. My wife likes prissy cases but is considering Rokform for the protection and cool and useful accessories !
Nice, but heavy
I wanted the MagSafe Sport Ring because I like to wireless charge, but sometimes I need a magnet in the middle of my phone so it is balanced. This fits the bill because it is easy to put on and take off. It adds quite a bit of bulk to your phone. It's rather heavy and it is thick. It's great as long as you don't mind the extra bulk.