Simply twist and lock onto any one of our Apple iPhone cases or Samsung Galaxy cases for instant control of your phone and easy viewing of your favorite stuff to watch, see or do. Once you are done watching, fold the stand down and instantly stick your phone to any magnetic surface thanks to the built-in N52 Neodymium magnet. This premium accessory also works with any of or our magnetic car mounts and even your golf cart. Easily twist it on and off for wireless charging.
The ROKFORM Magnetic Sport Ring Stand Grip is constructed of stainless steel, titanium, aluminum, and fiber-reinforced polymer, so it's up for the toughest challenge and will look good doing it. Risk-free purchasing with our 60-day money-back guarantee, 2-year limited warranty, and world-class customer service right here in Southern California. Try one today; we think you will be glad you did.
EASY TO USE: Twist on and off any Rokform RokLock case
IT STICKS: Powerful magnet and anti-slip grip will stick to any magnetic surface
TOUGH AS NAILS: Aluminum, stainless, reinforced polymer and titanium construction
CONVENIENCE RE-INVENTED: Oversize ring provides security and optimal viewing angle
LOW PROFILE: Sits lower than most stand attachments while doing a whole lot more
No. ROKFORM Pioneered magnetic technology in the Mobile Electronics Accessory Space back in 2011 and now even Apple® has adopted magnetic technology in their phones and accessories, even cases. Our magnetic accessories including the Sport Ring are all safe for your phone.
No. In all of our experience and hundreds of thousands of magnetic accessories sold we have never had nor heard of a magnet harming a credit card. Moreover, most credit cards and processors use the chip exclusively so the strip on most cards is rarely used. Magnets can however de-magnetize hotel keys and we have had reports of magnets harming certain gift cards. Keep your phone in a different pocket than those items when using the Sport Ring.
To give you access to better quality standards, we take the direct-to-consumer approach and with few exceptions, we cut out the middleman. This allows us to provide a more premium product at an affordable price. The Sport Ring is made from Titanium, Stainless Steel, Aluminum, and Reinforced polymer compared to similar "Big Box" retail competitors that offer similar products made from plastic and or pot metal. Our products are premium, prices are affordable, and our quality is guaranteed.
No worries. We offer a 60-day money-back guarantee. If you don't like it, send it back for a full refund or exchange — your choice.
We offer a 60-day money-back guarantee and a 2-Year limited warranty. We also provide live World Class customer service right here in Irvine, California. Have more questions? call one of our friendly customer service professionals toll-free at 855-765-3676.
No but the Sport Ring can be easily removed in seconds for wireless charging on compatible phones or cases like the Apple® iPhone® and Samsung® Galaxy® wireless series cases we offer.
The magnet is 32mm in diameter and 3.25mm thick.
1.6oz. (47 grams) most of the weight is due to the magnet.
5mm thick (.2 inches) (plus 1mm for grip) 46.5mm tall and 46.5mm wide (1.8 inches)
Yes you can use the Sport ring on any ROKFORM magnetic mount including the Super Grip Vent Mount, Swivel Mount and Low Pro Dash Mount.
Yes, the stand will hold your phone at the perfect angle in portrait and landscape.
The ID of the ring is 39mm (about 1.5 inches) The larger ring allows for a more useable Ring / stand & grip. Most rings are too small for larger fingers and do not allow for a realistic viewing angle especially for larger phones and portrait mode. The larger ring also allows for a larger magnet for more secure mounting on magnetic surfaces and magnetic car mounts.
Yes, the ring will work on all ROKFORM cases that feature the twist lock. If your case does not have the twist lock then you can use our Universal Adapter on just about any phone or case.
Yes, but only if using our Universal Adapter that adheres to just about any phone or case. Once you install the universal adapter to your case, you can quickly and easily twist and lock the Sport Ring directly to it.
No. The magnet does not affect the phone signal, GPS, Bluetooth, or Wi-Fi.
The Sport Ring is designed, tested, and shipped to you from Irvine, California, and manufactured in China. We carefully select our manufacturing partners to ensure the best quality for our customers.
Maybe. Some magnetic mounts used four small magnets facing North and South and are generally used to stick to a metal plate. The Sport Ring Magnet faces South on the Sport Ring and North on our Mounts, so if you are using a non-ROKFORM mount, the performance will not be very good because the magnets in the non-ROKFORM mount are resisting against the magnet in the ROKFORM mount. We recommend ROKFORM magnetic mounts for the Sport Ring because they are designed to work together.
Yes. The Sport Ring is less than 6mm thin and the ring folds firmly flat so it won't snag on your pocket and will easily slide in and out. Most customers leave the Sport Ring on their phone at all times except when wireless charging or using one of our bike mounts, motorcycle mounts or some of our other twist lock accessories. In this case, it's easy to remove the Sport Ring, stow it away and go out on that much needed, head clearing ride!
Yes, in fact it has a powerful N52 Neodymium magnet right built into it. The built-in magnet allows you to quickly and securely stick your phone to any magnetic surface.
The magnets in the Sport Ring are the strongest Neodymium Magnets available, Grade N52. The magnet is 32mm OD x 3.25mm thick with 11lbs. of pull force. Rest assured whether you are carrying the largest iPhone 12®, Galaxy® Note 20 or other Android® Phone using our universal adapter, this magnet will hold it steady!
NO! The Sport Ring has our patented ROKLOCK twist-lock system so you don't need to worry about fooling around with adhesive and wondering if it will even stick to your phone or case. The Sport Ring easily twist and locks in place and removes with a simple twist!
N52 Neodymium. The highest grade available.
Currently we do not produce any tablet case, iPad, etc. However, if you use our Universal Adapter on your existing tablet can you will be able to use the Sport Ring which is great for standing up your Tablet for typing or watching videos. With the built-in magnet you can also stick your tablet to any magnetic surface.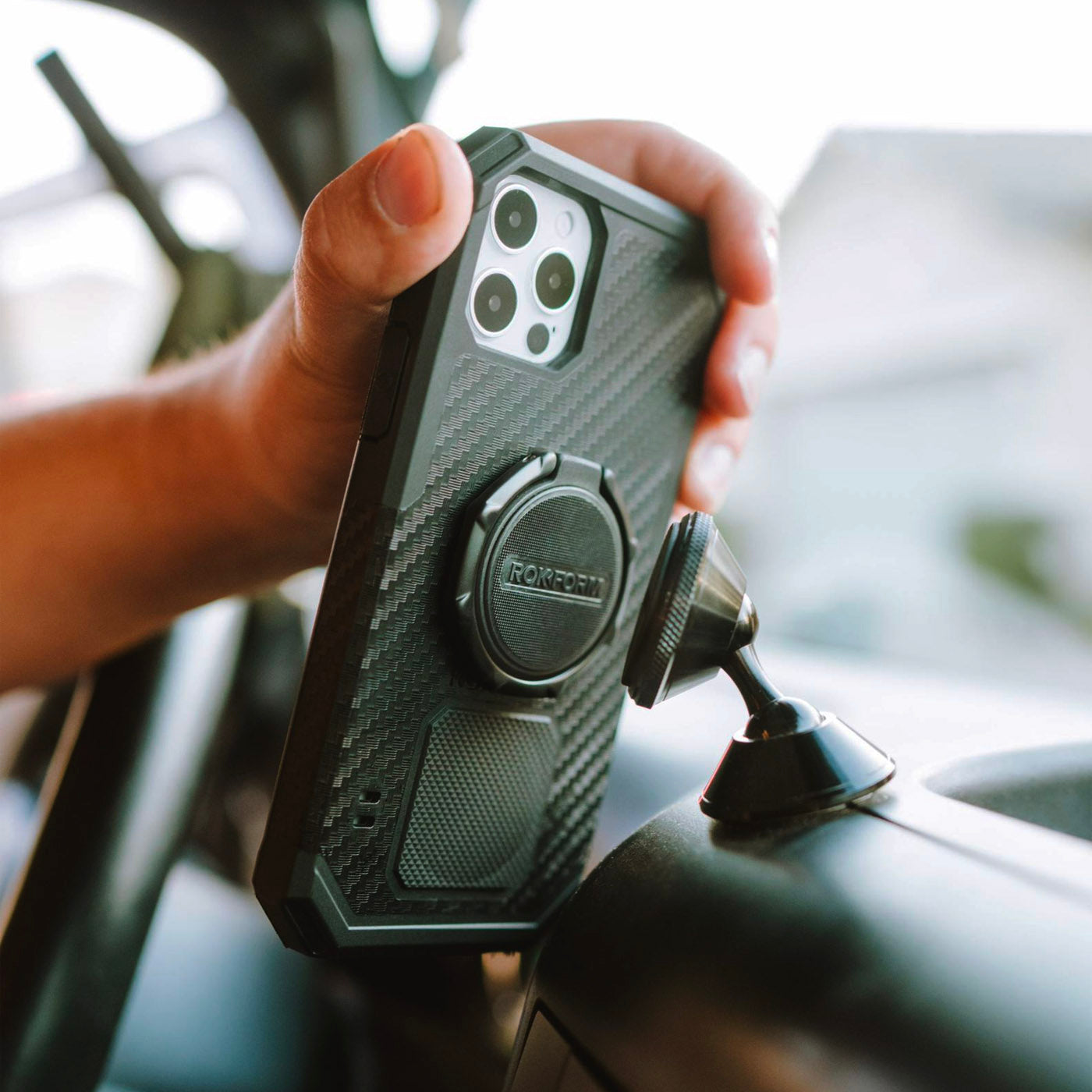 Get Control of your Phone
The Sport Ring was designed to work with any ROKFORM case. The Sport Ring makes every task easier with your Apple iPhone or Samsung Galaxy. Unlike other rings and grips, the ROKFORM SportRing does not require adhesives or additional parts that stay on your phone when not in use. With the ROKFORM Sport Ring, twist and lock your way to more control of your phone, and it's just as easy to remove for wireless charging or using one of our twist-lock bike, motorcycle, or car mounts.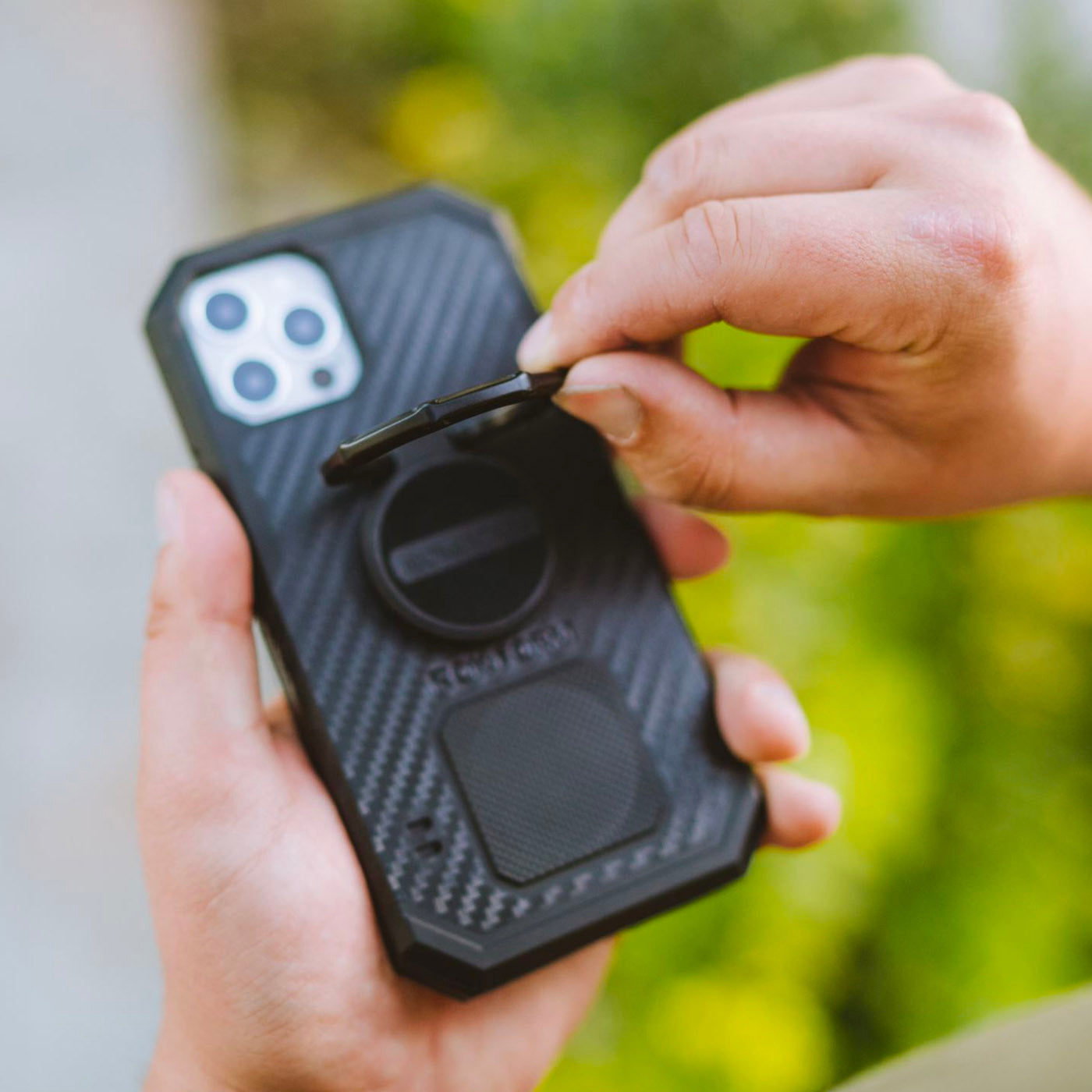 Built In Magnets
"With a powerful built-in magnet, the Sport Ring allows you to stick your phone to almost anything as long as it's magnetic. The Sport Ring allows for convenient storage of your phone while working in the garage (toolbox), in the kitchen (fridge) at work (file cabinet) on one of our magnetic car mounts like our super grip vent mount, swivel dash mount, or low pro mount (driving), and even directly to your golf cart. So simple!"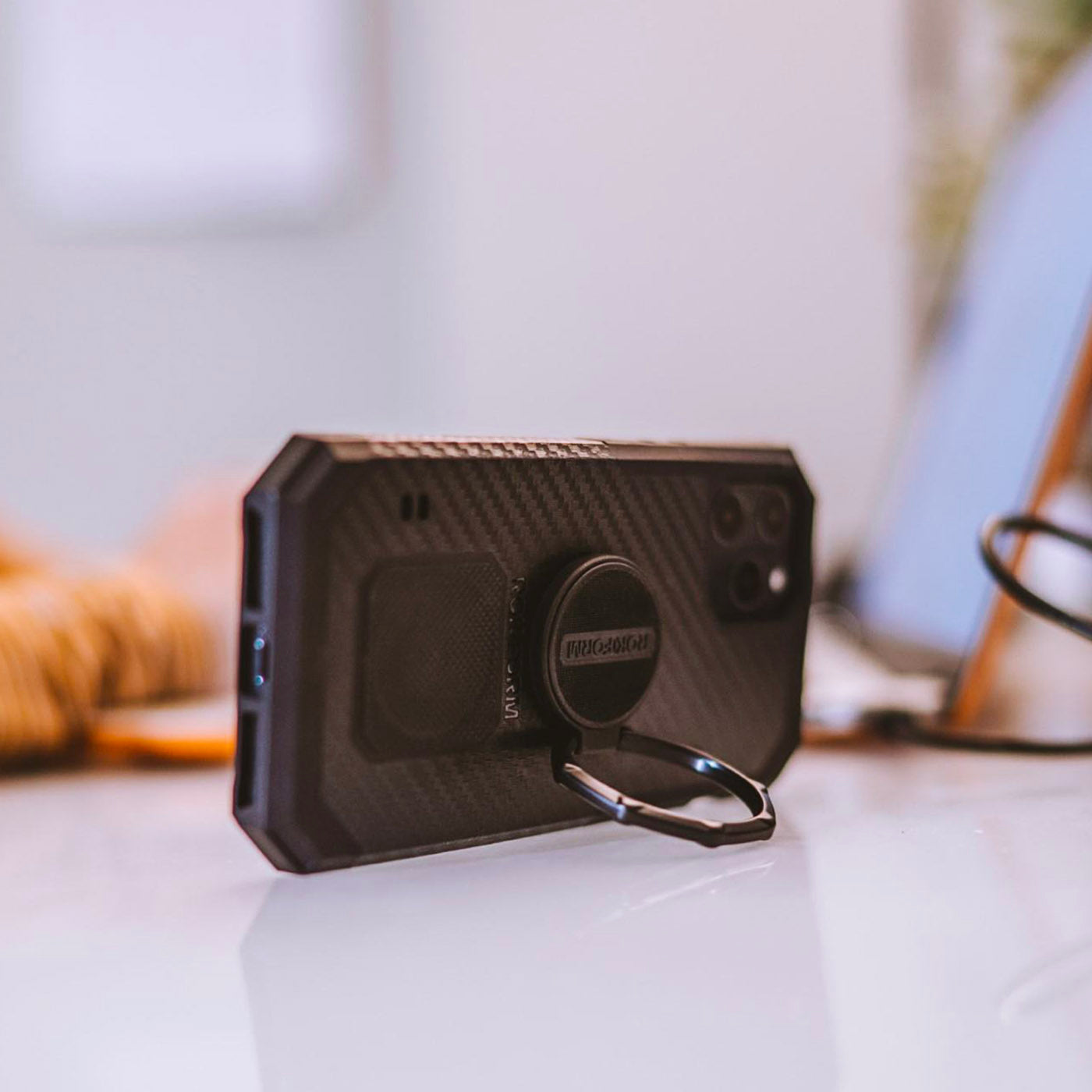 Tough as Nails
The ROKFORM Sport Ring is made from materials most commonly seen in aircraft, exotic cars, and motorcycles, like titanium, aluminum, and forged stainless steel. The durable blend of exotic materials makes for an extremely durable, attractive, and useful accessory for your iPhone or Galaxy smartphone.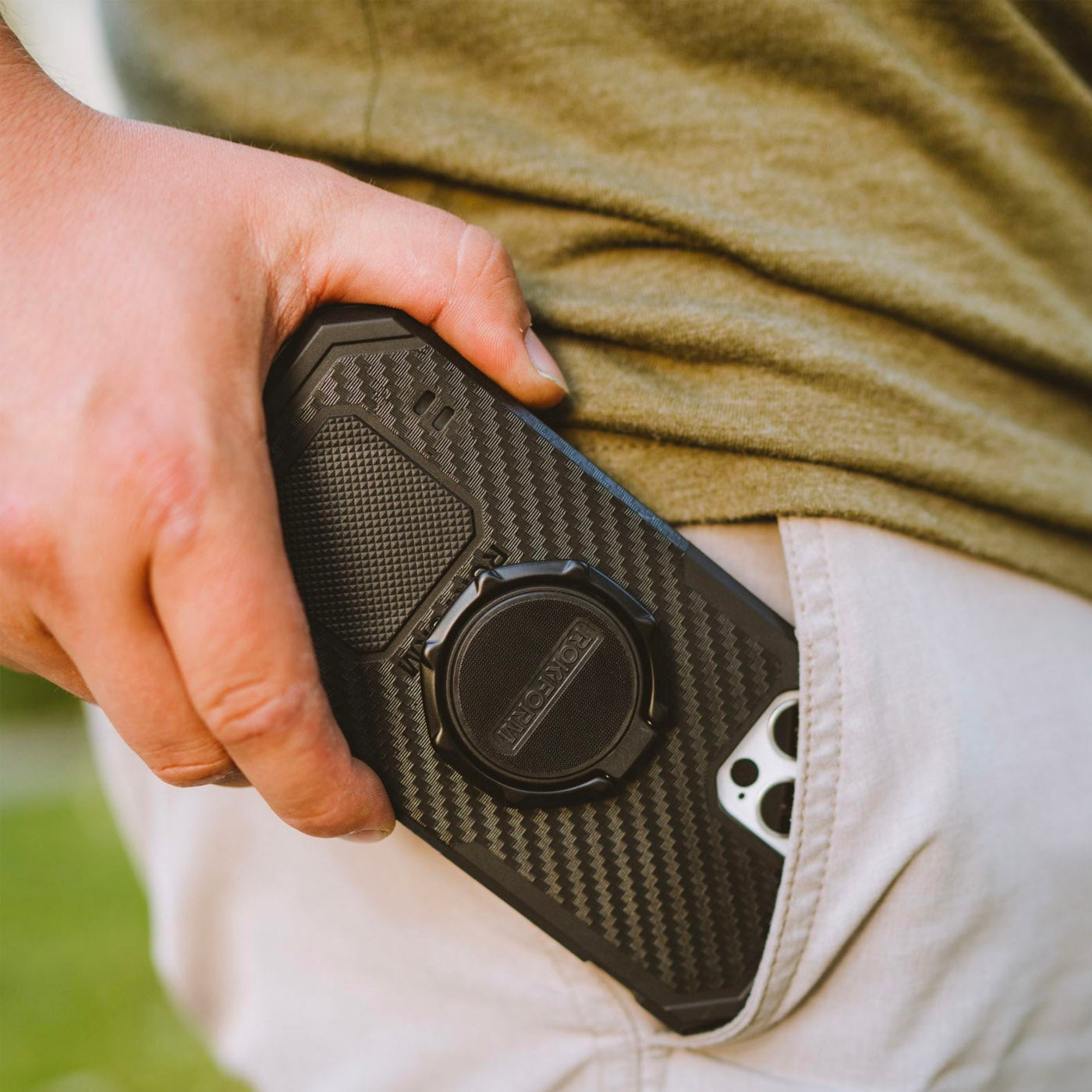 Convenience Re-Invented
"This simple addition to your Apple iPhone or Samsung Galaxy is a game-changer. Grip it, stand it, or stick it just about anywhere. Convenience re-invented."