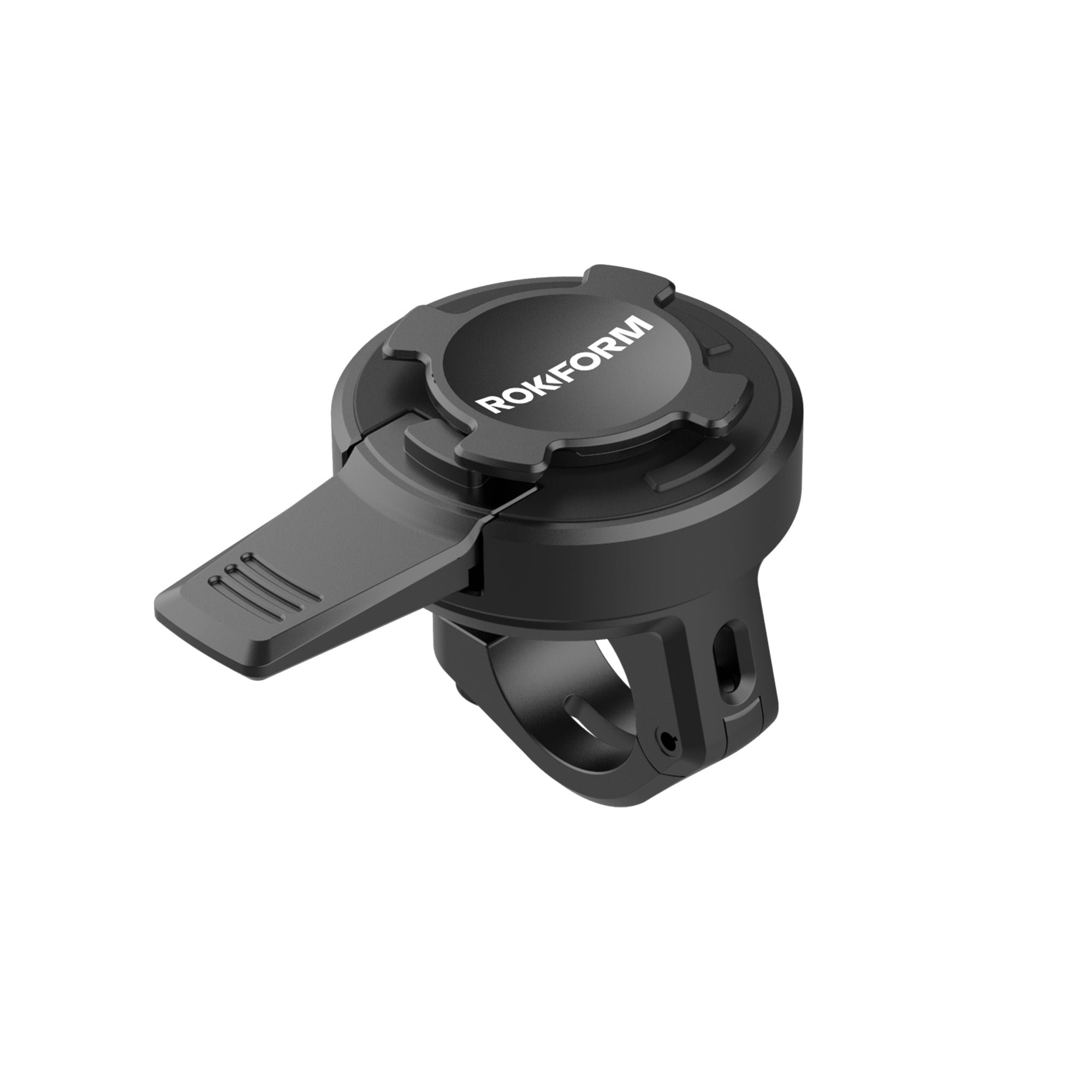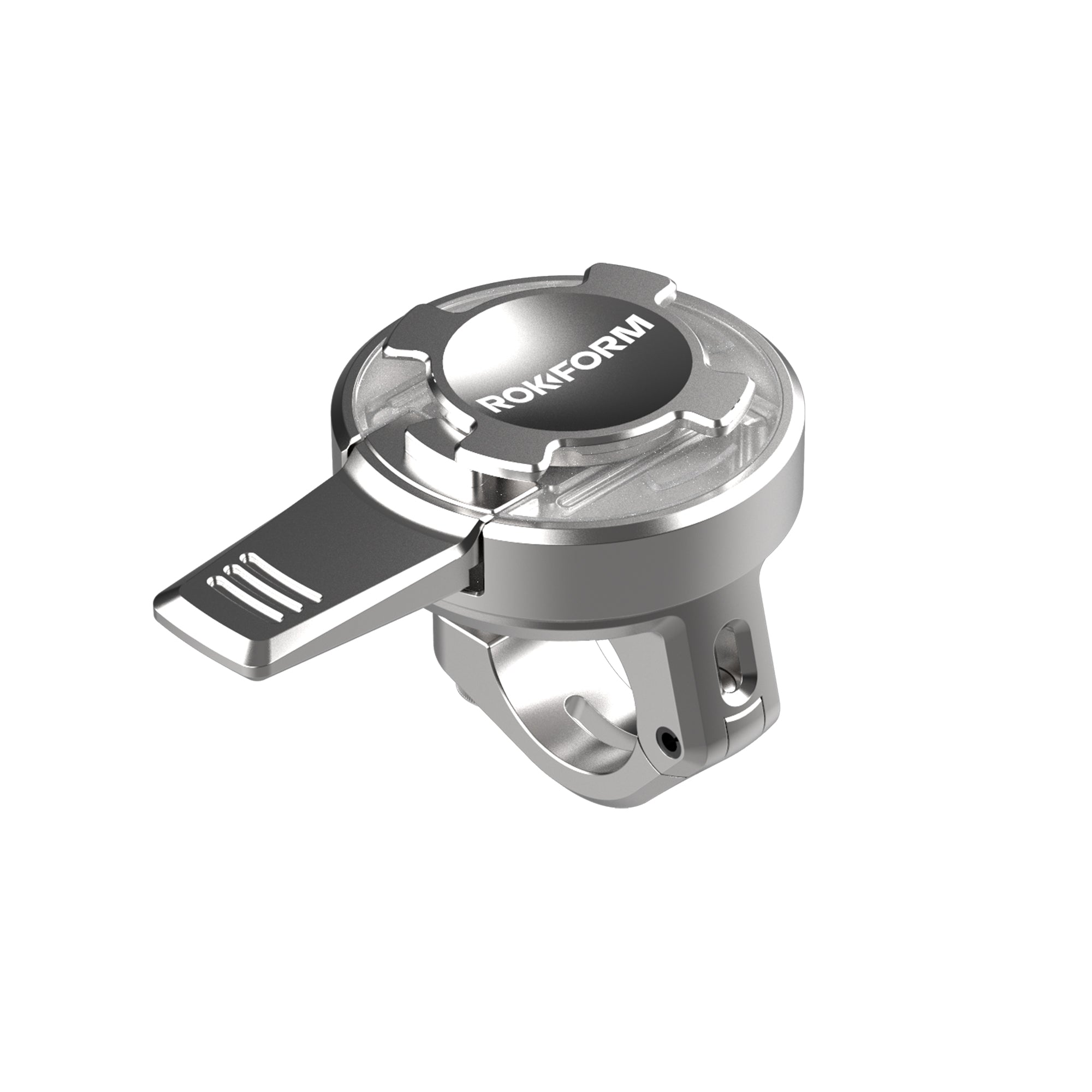 Mirror Mount
Our rearview mirror phone holder holds your phone securely over any terrain. It's perfect for outdoor adventures, wherever they take you!

• Durable Aluminum Construction
• Easy to install with the included tool
• Works with all ROKFORM RokLock Cases
• Fits 4 bar sizes, 10mm-16mm (25/64"-5/8")
Rokform's rearview mirror phone holder is more than just a mount - it's a transformative accessory. We integrate your smartphone with your rear-view mirrors to provide you with convenience, safety, and accessibility on the road wherever your travels take you. You get hands-free usage on any vehicle. And you'll also get the security of knowing that your phone is held securely in place over every sort of terrain. You can attach your device securely with a simple twist, then remove it with another twist. Keeping your phone safe has never been so reliable or so convenient.

SECURE: Patented RokLock twist lock securely holds your phone
BUILT LIKE A ROK: Made from tough aircraft-grade aluminum, won't crack or break like plastic mounts
VERSATILE: Fits bars and mirror sizes: 10mm (25/64"), 12mm (15/32"), 14mm (9/16") and 16mm (5/8")
WORRY-FREE: Your purchase is protected by our 60-day money-back guarantee and 2-year warranty
- Rokform Rear View Mirror Phone Mount
- DIY Installation Kit
Get Where You're Going
How many times have you missed your turn because you were fumbling with your phone for directions? With ROKFORM's rearview mirror phone holder, those days are over. Missed turns lead to missed opportunities. You'll be able to say goodbye to awkward stops and U-turns. With our mount, you'll have seamless, safe, and efficient rides every time.
Shake Resistance
The RokLock™ mount doesn't just secure your phone, it also locks in your peace of mind. With a simple twist, your phone locks securely into place. It's an unbreakable bond between the rear view mirror phone mount and your device. Even on the roughest and bumpiest rides, your phone stays put—no wiggles, wobbles, or worries.
Security at its Best
With ROKFORM's mirror phone mount, you get both freedom and security. We let you embrace your adventurous spirit without compromising the security of your device. Our RokLock™ mount is like a seatbelt for your smartphone. You'll be able to roam as wildly as your heart desires, knowing that our mount will hold your phone fast on even the bumpiest of rides.
Fast & Easy Install
Installation issues are often quoted as the number one reason for buyer's remorse. And who wants buyer's remorse when you can have rider's rejoicing? There's no more fumbling with complicated instructions. Just use the included wrench and snap our mount into place in seconds. Our rear view mirror phone mount was designed for people who'd rather be riding than reading assembly instructions.
Range of Compatibility
From 10mm to 16mm, our rearview mirror mount fits all rides. The Rokform rear view mirror phone holder isn't your run-of-the-mill plastic holder. We build a long-lasting, aircraft-grade aluminum solution that can adapt seamlessly to a wide range of bars and mirrors. Our mount positions your phone at the perfect angle for easy, glance-and-go navigation and hands- free communication on every ride.
The Rokform Mirror Mount is the ideal choice for any vehicle with mirrors. Our rear view mirror phone holder keeps your phone securely in the perfect mirror-mounted position to ensure you have a smooth, distraction-free journey. With our mirror mount, you can be sure that your phone is safe no matter where your travels may lead you.
Rokform knows that your phone's safety is of utmost importance. Our rearview mirror mount features an innovative locking system that ensures your device will stay firmly in place even when you're navigating challenging terrain. You can ride with confidence, knowing that your phone's not just secure but also cleverly positioned for easy access.
Rokform's Mirror Mount is designed for versatility and is compatible with most smartphones. Whether you're using an iPhone, Samsung Galaxy, or Google Pixel, you can take full advantage of our mirror mount setup. And even riders who don't have a Rokform case can affix our Magnetic Universal Adapter to their phone and take advantage of dependable RokLock® protection.
Absolutely. The Mirror Mount is crafted with durability in mind and engineered to withstand the rigors of your ride. Extra protection via our RokLock® tech keeps the connection between your phone (no matter the size) and our rear view mirror phone mount steady. When you're taking your ride on challenging terrain, Rokform goes the extra mile to keep your phone safe.
No. The Rearview Mirror Phone Holder is designed to provide a flexible and adjustable position for your phone without obstructing your view. We designed our mirror phone mount with safety and convenience in mind. It holds your phone securely in place, so your view is clear and you don't have to be worried about distractions or damage from a dropped phone.
We build our rear view mirror phone holder to protect both phones and vehicles from damage. It's designed with materials and features that prevent scratches or other harm to the mirror's surface. With Rokform's Mirror Mount, both your phone and your mirror are safe.
Yes. We build our products to stand up to the roughest terrain and the toughest conditions, and we stand behind them if anything goes wrong. Like all our Rokform mounts, our rearview mirror phone holder comes with a 60 day money-back guarantee and a 2 year warranty.