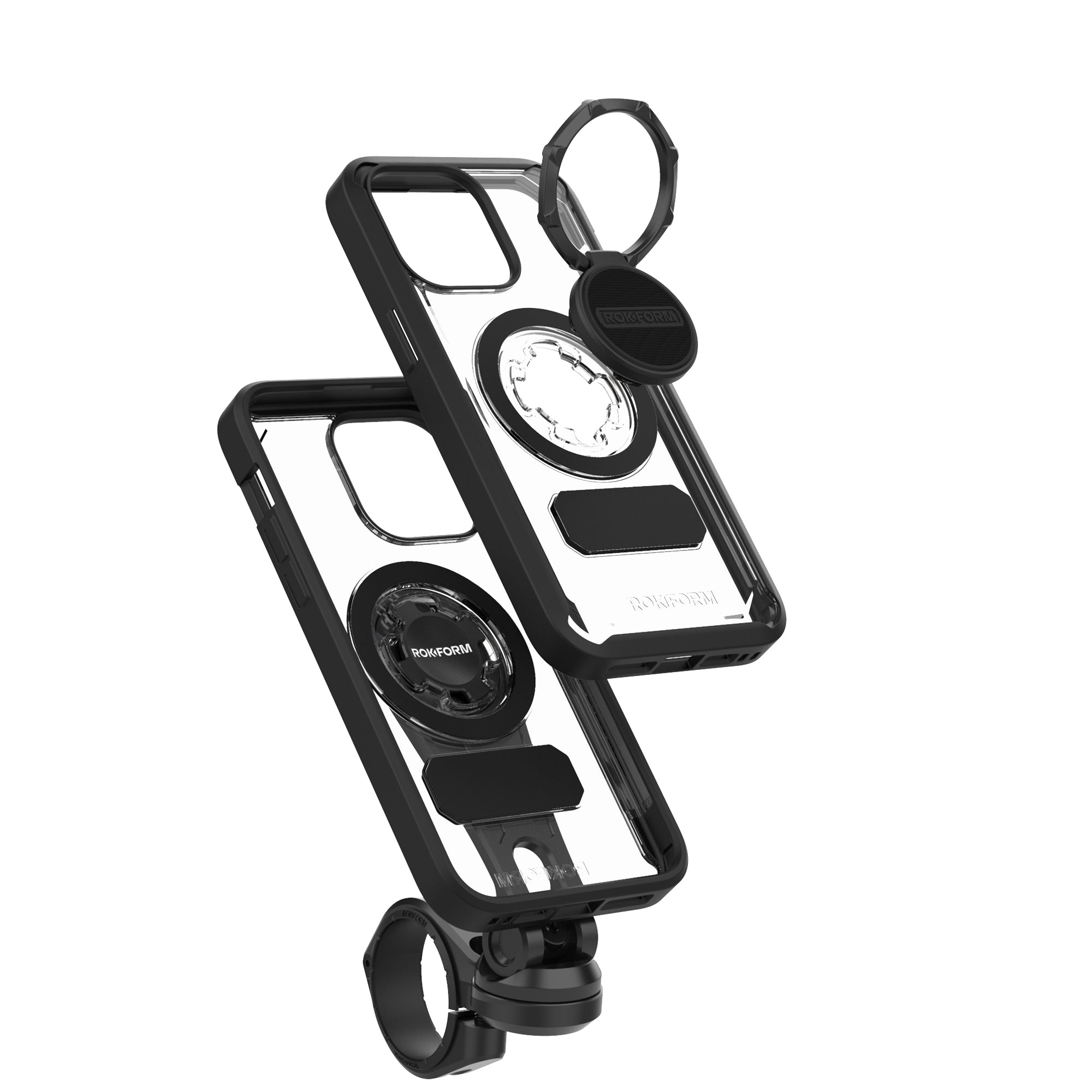 ROKLOCK™
Patented twist-lock technology that brings an extra level of strength to your vehicle mounts and accessory attachments. Simply twist in any compatible Rokform attachment.
MILITARY GRADE
Tested to military-grade drop standards to absorb shock and drops 4x better than the competition. Just one reason why military and first responder personel love our iPhone cases.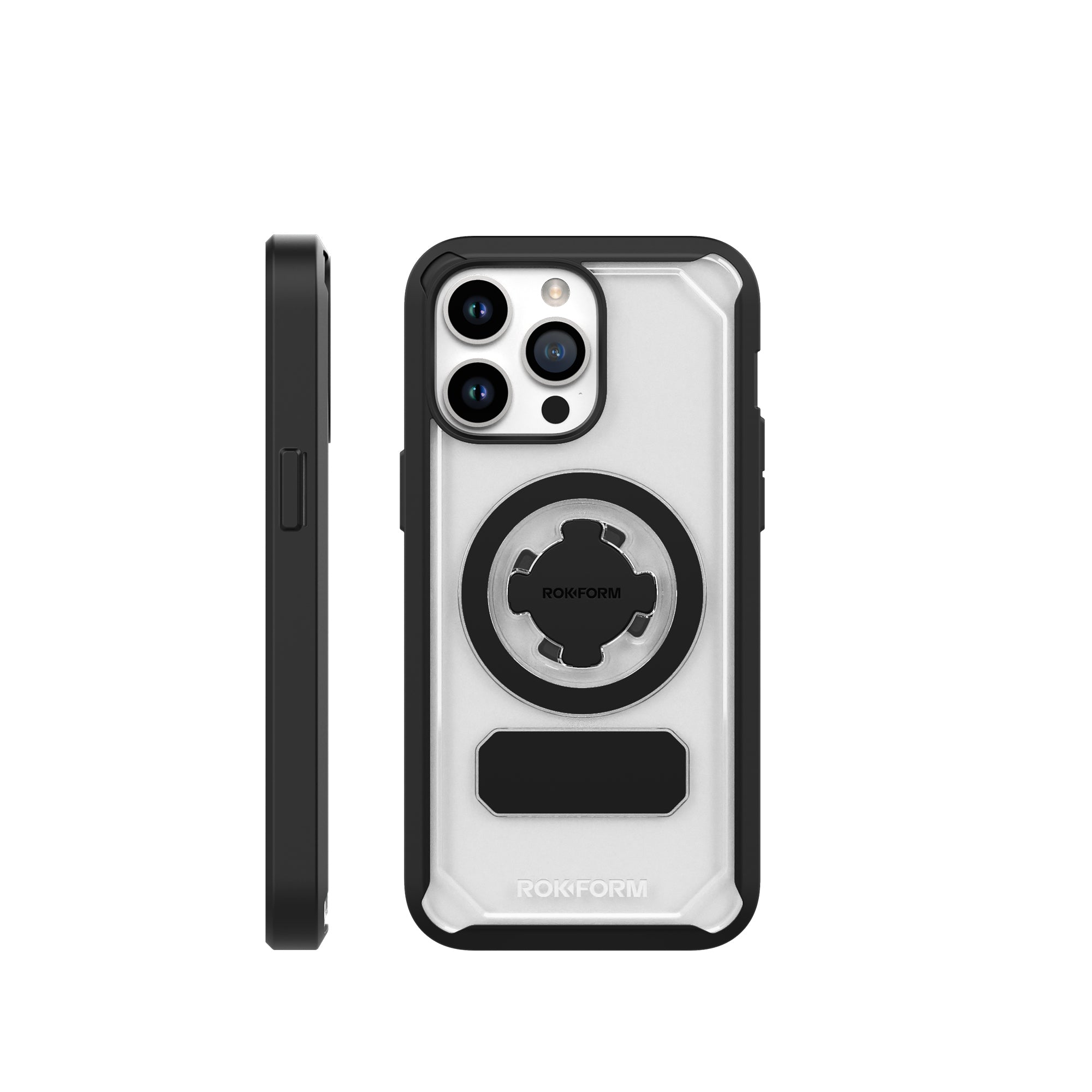 MAGNETIC
Three magnets strategically placed in the center and bottom of our Apple cases. The powerful attachment to any magnetic surface lets you go hands-free anytime, anywhere.
QUALITY DRIVEN - SATISFACTION GUARANTEED
iPHONE CASES BUILT FOR IT ALL
The best iPhone cases focus on all angles - protection, functionality, and design. That's the trio we've successfully mastered in our Apple cases. No matter if you choose our Rugged, Crystal, or Eagle 3 Series - you've got military-grade drop protection, powerful magnets for mounting, and a sleek slim design. Choose freely.
RUGGED IPHONE CASES
The gist of it is, all of our cases are built with durability, design, mounting, and security top of mind. We're talking 6 foot drop protection, industrial grade multi-magnet arrangement, 6-sided, 360° protection, and 4x the shock and drop absorption of other cases in the market.
What our rugged apple cases bring to the table that differs from other designs is more cornered edges and a dark sleek look.
CRYSTAL IPHONE CASES
All of our cases offer easy-press buttons, a lanyard slot, powerful MAGMAX™ magnets (iPhone 13 and newer models), and our patented RokLock™ twist lock system.
Our crystal apple cases stand out with their clear design to let your iPhone color shine. It gives you more control over style and expression without compromising on the quality we bring to all of our iPhone cases. So go ahead and show off your iPhone while protecting it from drops, dings, and hits.
EAGLE 3 SERIES
Golfers love our Eagle 3 Series Apple iPhone cases - and for good reason. Brent Grant, PGA Tour professional, agrees wholeheartedly saying:

"If you play golf and don't have the Eagle 3 iPhone case, get one"!

Think about your last round, driving around the course, your phone was likely sitting in a sticky cup holder. Gross. Multiple industrial grade magnets give you 3x the hold to mount our Apple cases to your golf cart. Easily document your strokes, play music, and use your yardage app with ease.
TEMPERED GLASS
No matter how tough Apple makes their screens, extra protection is always in your best interest. Rokform tempered glass screen protectors compliment our apple cases with the perfect fit. Designed to withstand extreme conditions, while maintaining both touch sensitivity and display clarity. Super easy to install with our included guidance kit and within minutes you've multiplied the protection of apple cases!
While new iPhones are more durable than older models, an extra level of security is needed. Your expensive phone still needs the additional protection that only tough, durable cases for iPhone can provide. With a high-quality case and a tempered glass screen protector, your iPhone is protected from corner, screen, and camera damage in the event of slips, falls, or drops.
Rokform Rugged, Crystal, and Eagle 3 Series are the best iPhone cases you can buy if you're looking for maximum protection. Our military-grade protection shields your phone against drops 4x better than competing cases. And our industrial grade MAGMAX™ magnets and RokLock™ twist lock give you two different alternatives for securing your phone to a mount or magnetic surface.
Phone cases for iPhone of any model are absolutely necessary. If you've spent over $1k for your new iPhone, do you really want to risk broken corners or a cracked screen? Our Rokform cases pay for themselves and more the first time they shield your phone from damage. And with their rugged polycarbonate protection, they'll protect your camera, screen, and corners when lesser cases would fail.
First responders and military personnel rely on our cases for iPhone models old and new - they work in dangerous environments where their phone is susceptible to falls and dings. They know that Rokform's Apple cases are designed with durability and security in mind and built to protect from falls and damage in even the most challenging conditions.
The best material for protecting iPhones is high-quality light but impact-resistant polycarbonate. That's what we use to build our iPhone cases. Polycarbonate provides the protection, style, and durability your iPhone needs, without adding excess bulk or weight that makes your phone awkward to hold, use, or carry in your pocket or purse.
Rokform cases feature 6 foot drop protection and our patented RokLock™ system, which lets you mount them securely to any Rokform mount. Our phone cases for iPhone are the #1 choice for military and first responder personnel, thanks to our tough polycarbonate 6-sided, 360° protection that protects your corners, camera, and screen against damage.
SATISFACTION GUARANTEED: OUR PROMISE TO YOU