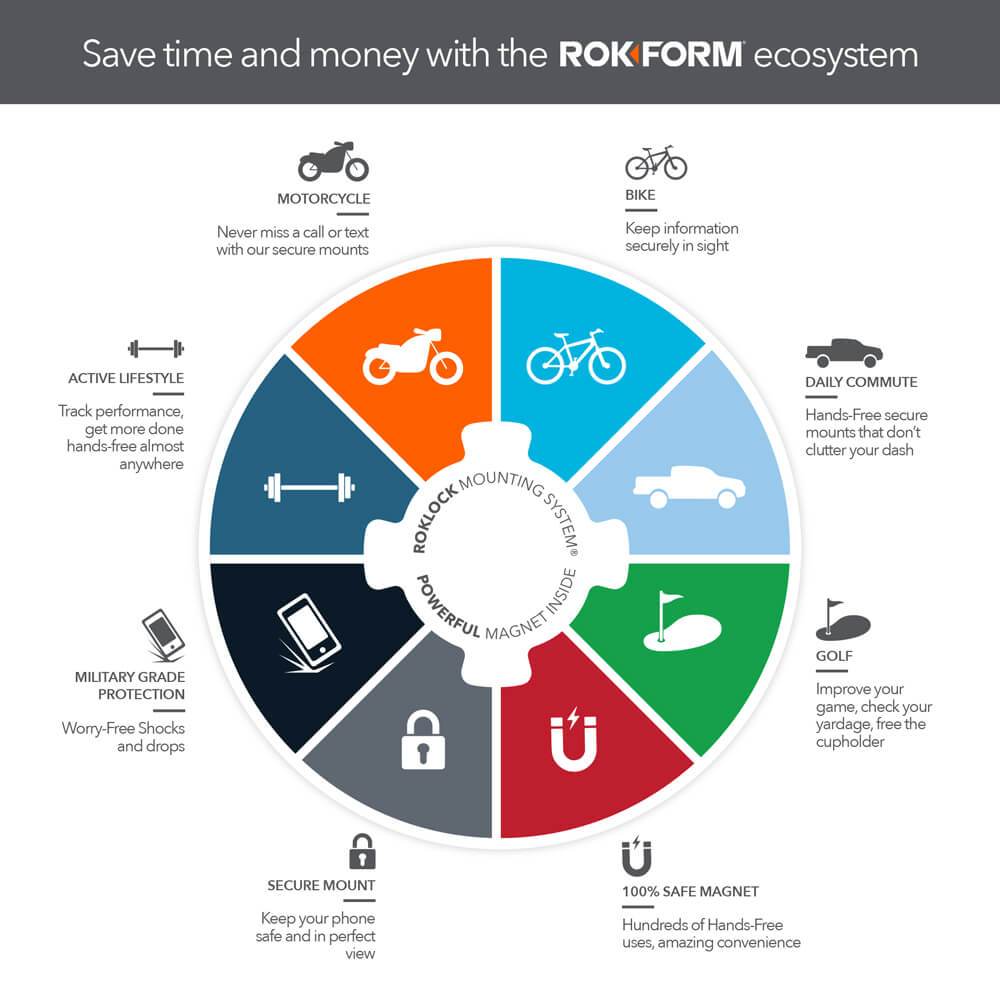 Low Pro Magnetic Car Dash Mount
Updated with stronger grip and enhanced magnetic pull. 
Easily mounts to any flat Surface - options are endless - office, car, home, shop
Large enough to hold a large phone but still discreet at less than 1"
15 lb. Pull, to securely hold heavier devices
Magnetically safe, will Not affect your GPS, Bluetooth, Wi-Fi, credit cards, Apple Pay, data transfer or the Camera on your Device

THE ULTIMATE HANDS-FREE EXPERIENCE
Avoid spending your hard earned money on a Hands-Free ticket! Use the Rokform Low Pro Magnetic Car Dash Mount to access your GPS or music, screen or answer calls safely. Arriving to your destination is half the fun when you cruise with the Rokform Low Pro Magnetic Car Dash Mount. Use your smartphone as your guide- simply snap your device on, input your endpoint to your favorite navigation app and you are good to go. With the Rokform Low Pro Magnetic Car Dash Mount, you will always arrive safely and on time.
ROKSAFE MAGNET TECHNOLOGY
Since 2011, Rokform has been the pioneers of Safe Magnetic Mounting. The Rokform Low Pro Magnetic Mount is guaranteed safe, and will not affect your GPS, Bluetooth, Wifi, Credit Cards, Apple pay, Data Transfer or the Camera on your device.
ULTRA-STRONG MAGNET
The discreet, 1" Rokform Low Pro Magnetic Mount is made from a 15 lb. rare earth magnet which creates an extremely strong, secure pull. You can be assured that when you use this magnet mount with your favorite mountable Rokform case, your device will remain firmly in place.
WORKS ON ANY FLAT SURFACE
The Rokform Low Pro Magnetic Mount is great for use just about anywhere! From the office to the car or around the garage or house, simply peel to reveal the 3M™ tape, stick to a clean, flat, hard surface, and let the magnets get to work.
- Low Pro Magnetic Car Dash Mount
- Cleaning Wipe
As soon as you place your order we will start preparing your order for shipping.
You will get a confirmation email right away. As soon as we start preparing your order you will get a second shipping email with a tracking number.
Within 5 business days you will be able to start enjoying your new Rokform Product.
We have a 60 day 100% Money Back Guarantee. To learn more about this guarantee please see our Return Policy.
We have a 2 Year Warranty to make sure that you have the best Rokform experience. Our Customer Service team is here to help drop them a line by emailing info@rokform.com
I Can't Believe it's Not Butter!
This is the greatest magnet in the world! Whodahthunk to put sticky tape on the back of a magnet and stick it to a dashboard!? Thus and so one may be able to take their magnetized phone case and stick it to their dashboard!
Ingenious!
I am highly attracted to my Low Pro Magnetic Car Dash Mount. I like mounting it and when we're alone I sing it songs.
Awesome
Works as promised strong connection
It's perfect for a hidden dash mount.. very strong magnet !
Need two for best hold,so you can turn sideways
Low profile mount and phone case
I really like both if not all of your products. The phone mounts are great and hold up extremely well. The phone cases great with the magnets and the protection that the phones need. Great products!!!
Great product!
I have been using Rokform stuff for years and order the cases as soon as I get a new phone. This magnetic mount is easier to use that the twist on type and holds the phone very securely. I am very happy!