iPhone 15 Plus | Eagle 3 Magnetic Golf Clear Phone Case
• SECURE attachment to the cart instantly.
• PROTECTION made for cart path drops.
• HANDSFREE access to GPS yardage.
• VIDEO your swing on the course.
• SLIM, light, and MAGMAX™ compatible.
"If you play golf and you don't have the Eagle 3 iPhone case, get one!"
-Brent Grant / PGA Tour Professional
The ROKFORM Eagle 3 Golf iPhone 15 Plus case represents more than 10 years of smartphone case design experience and thousands upon thousands of rounds of golf. With the Eagle 3, you can easily stick your iPhone 15 Plus right to the cart, and that's it. Easy phone access, instantly. The magnet strength will impress your friends and keep the phone secure on the cart for 18 holes or any flat magnetic surface.
No, our MAGMAX MagSafe® compatible magnets and lower magnet array are completely safe for iPhones. We have been using magnets in our iPhone cases for more than 10 years trouble free and the iPhone 15 is no exception.
The Eagle 3 case has a built-in MAGMAX™ magnet array and will work with all Rokform wireless chargers. Compatibility may vary with MagSafe wireless charging products not affiliated with Rokform. Although we cannot guarantee that the case will work on ALL Qi chargers and in ALL vehicles due to the nearly infinite combinations, (vehicle type, charging area, power output, etc.) we can guarantee it will work with all Rokform Wireless chargers. You can learn more about wireless charging here.
No, the Eagle 3 magnet system is designed to stay securely on your cart even over the roughest terrain. We have seen ice chests and golf bags fly off the cart while the Eagle 3 stays secure. It's not coming off until you want it to.
Yes, the slim, light, protective design makes the Eagle 3 the most versatile every day case around and is the perfect everyday case when you are not on the course.
The same reason that you need a golf bag. Sure, you can bungee your clubs together or put them in a duffle and strap them to the cart, but you use a golf bag, designed for golf to keep your clubs safe, organized and right where you know where to find them. Not having and Eagle 3 is like not having a golf bag. The Eagle 3 is your 15th club and is designed for golf, and to be right there when you need it, never lost, never damaged, always in sight, always in play.
Yes, like all ROKFORM cases take protection seriously. The Eagle 3 is designed to easily protect your phone, screen and camera from a 6-foot drop, even on uneven cart path surfaces. Check out
this video
.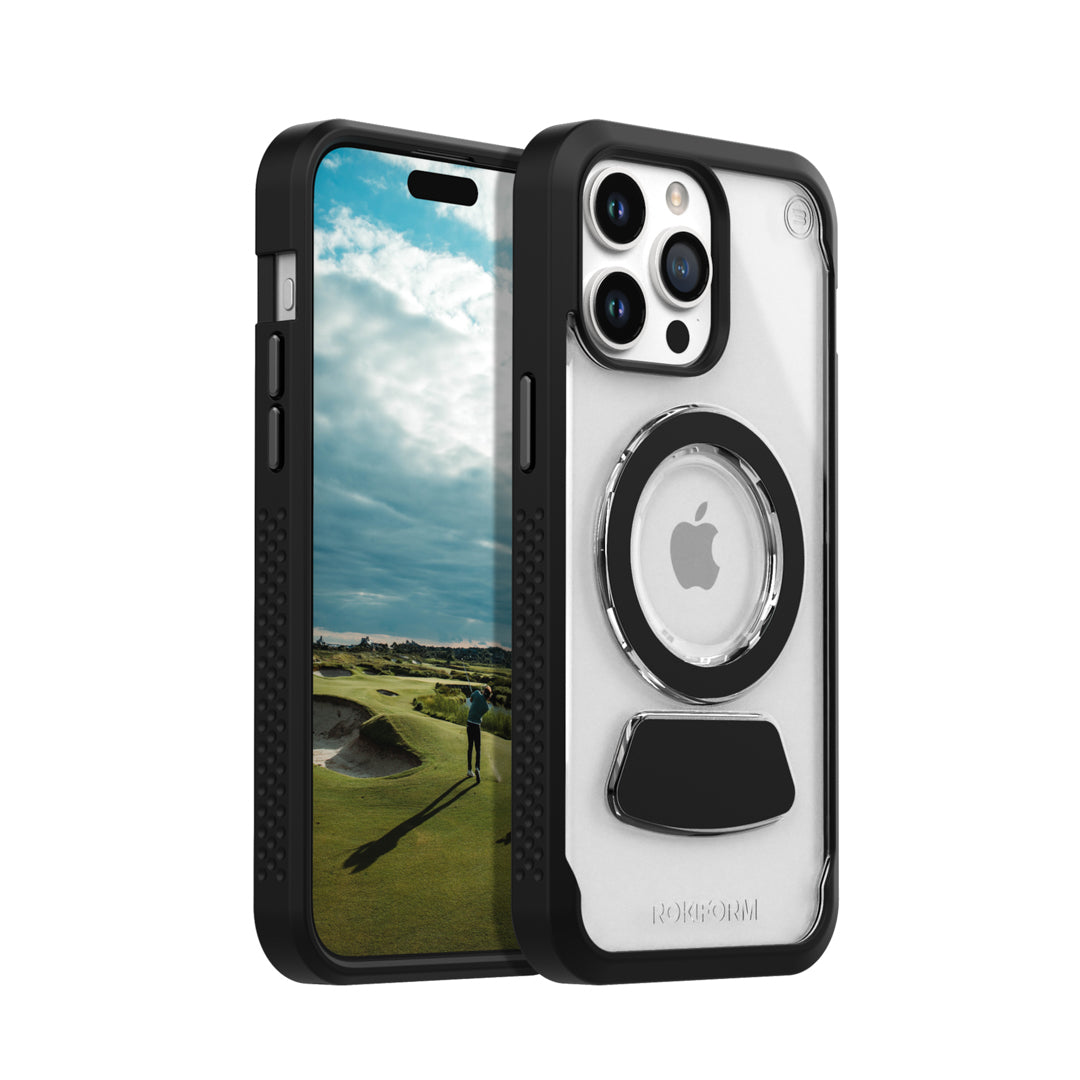 THE FIRST PHONE CASE MADE FOR GOLF
Never dig into the cupholder, glove box or golf bag to check your phone again.
HANDS-FREE AND IN CLEAR VIEW
Instant access to the front, middle, and back of the green with your favorite yardage apps.
"IF YOU PLAY GOLF AND DON'T HAVE THIS CASE, GET ONE."
Brent Grant / PGA Tour Pro

SLIM AND LIGHTWEIGHT
The Eagle 3 protective window lets your phone color shine through.